A plan to make Capel Street in Dublin traffic-free has been given the green light.
City councillors passed the proposal at a meeting, with the measure to be implemented next month.
Under the move, Capel Street will be closed to general through traffic from Parnell Street and Ryders Row to the Strand Street junction.
Access for deliveries will be facilitated between 6am and 11am, with car parking spaces on Capel Street to be removed and replaced by loading bays, while there will be all day loading also provided on a number of side streets.
Emergency vehicles will have access to the street at all times and cycling will also still be allowed.
The street will be bisected by the Luas at Abbey Street Upper and Mary's Abbey, with local access also permitted across the intersection.
The move will make Capel Street the longest pedestrianised street in the capital, ahead of Grafton Street and Henry Street.
We need your consent to load this rte-player contentWe use rte-player to manage extra content that can set cookies on your device and collect data about your activity. Please review their details and accept them to load the content.Manage Preferences
Strand Street Little and Strand Street Great will remain open to traffic all day, as will a section of Capel Street from the Strand Street junction to the quays.
For 17 weeks last year, Capel Street was closed to traffic on Friday, Saturday and Sunday evenings from 6.30pm to 11.30pm.
Extra space was created for pedestrians and outdoor dining on the street, as part of Covid-19 restrictions.
Towards the end of the pilot project, a public consultation on the decision received almost 7,000 submissions, which Dublin City Council said "strongly indicated a preference for a traffic free arrangement."
It found that 96% of respondents felt it had "improved their experience" of the street, while 89% said they wanted to see traffic-free measures introduced.
A further public consultation was held between March and April this year on a plan drawn up by the Dublin City Council Traffic Department.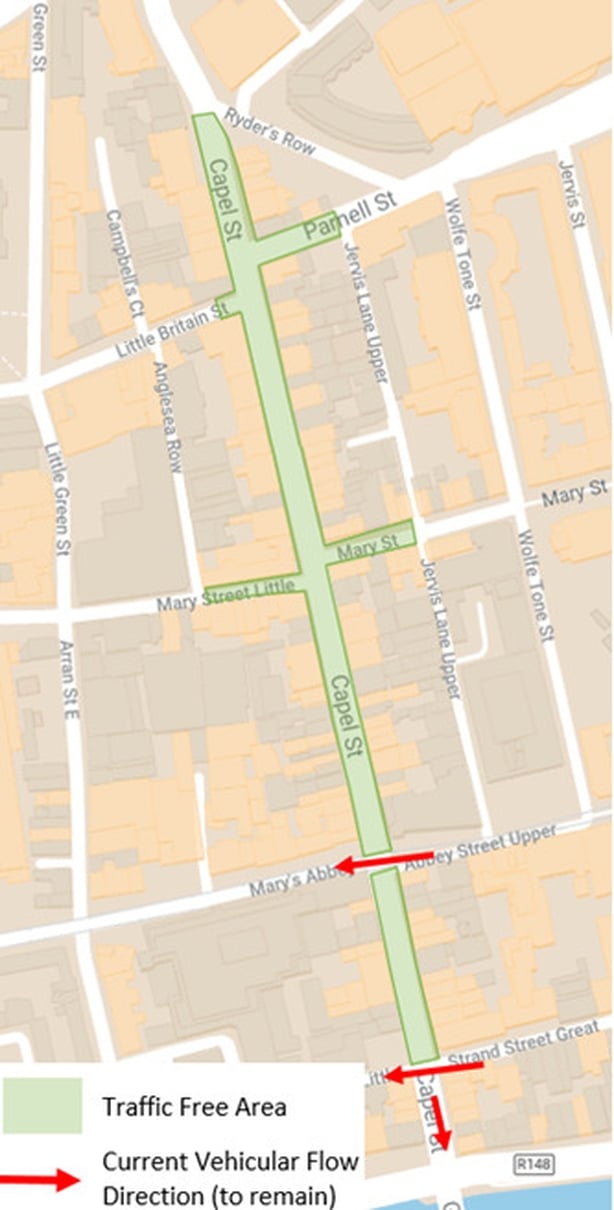 Just under 1,800 submissions were received, with 91% of respondents in favour of the proposals.
Objections were received from a number of local businesses, including the Jervis Shopping Centre, the Ilac Shopping Centre, the Ilac and Parnell Car Park and Arnotts, which had called for the traffic-free zone to be in place after 7.30pm only.
Dublin City Council said "the overwhelming response has been to implement the proposal as presented for consultation," which is due to take effect within three to four weeks.
DCC said "traffic management personnel will be on site for the first two weeks of operation to ensure smooth implementation."
It also said the arrangements will be monitored over the course of the summer, with a report on the changes being prepared for councillors in September.
'Compromise needed'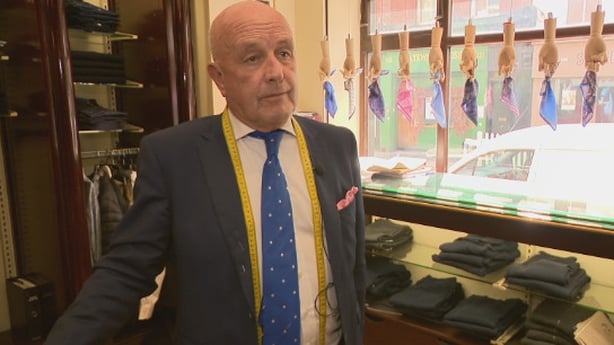 There has been a mixed reaction among businesses to the move to ban general traffic through Capel Street.
Menswear retailer Louis Copeland, who owns Louis Copeland and Sons, described it as "a crazy decision."
"It worked out very well in the evening time last year, so all we want is a compromise, life is full of compromises," he said.
"If you look around the street today, at 3pm, the traffic is flowing, nobody sits out on the street if you look at the restaurants. It happens in the evening time."
Mr Copeland said he believes "it will be a disaster for Capel Street, for Henry Street and all the surrounding areas".
"I don't think this has been thought out properly," he added.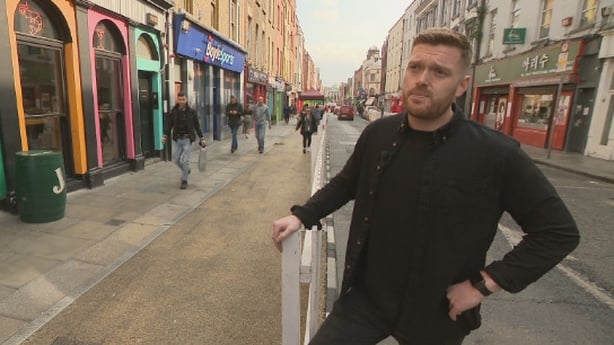 The General Manager of Krewe bar and restaurant said the move will be "really beneficial to have the outdoor area".
Seán Ralston said: "We have quite a small little restaurant inside on the ground floor and about 45 or 50 seating upstairs, so every little help will be great for ourselves."
He believes it will also be great for the Dublin 1 area in general because "the southside of the city has always had great outdoor areas".
Mr Ralston said he completely understands the calls for a compromise from some retailers.
"I think there has to be a compromise. There are hardware stores, Louis Copeland down the road. There is a lot of business coming through and you are going to need cars at some stage."
Dublin City Council's Head of Technical Services Brendan O'Brien said the traffic-free plan is designed to "change the way the street functions" and offer "a complete change of atmosphere".
"People will be able to better enjoy the street and there won't be the same noise or same air pollution," Mr O'Brien said.
Responding to the calls for a compromise to the plan, Mr O'Brien said there was an "overwhelming support for the times" proposed through the public consultations.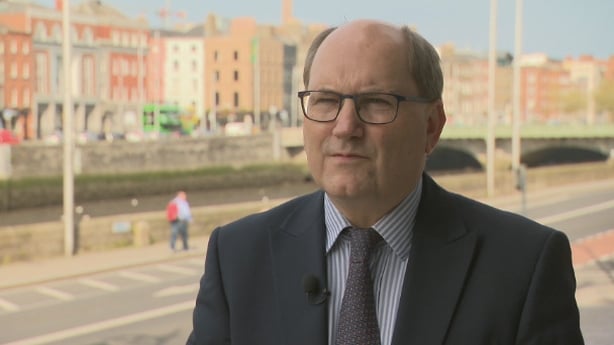 He also said DCC's data showed that "the busiest time on Capel Street is during the day" between 11am and 4pm.
"You would exclude a huge amount of benefits of what this will bring by making it in the evening. In fact, you turn it into something complexly different, which is maybe just for outdoor dining or drinking at pubs, whereas we see it as being beneficial for all retailers."
Mr O'Brien said the council feels "it's really worth doing".
He added that DCC will report back to the city councillors on two different occasions over the summer on how the plan is operating.
"We hope it will bed in and work really well, but obviously if there are particular problems, we might have to tweak things," he added.
Fine Gael councillor Ray McAdam said the plan will "ultimately transform" Capel Street.
In a tweet he said the decision will make Capel Street "more pedestrian friendly and support business on the street."
Green Party councillor Janet Horner said the proposal was "warmly supported by local councillors this morning."
In a tweet she said "get set for a transformed Capel Street in the coming weeks."