Customs officers targeting transnational organised crime groups have seized €9.8 million worth of drugs at Dublin Port.
They recovered 60kg of cocaine, 22kg of heroin, 145kg of cannabis resin, 79kg of cannabis herb and 1kg of ketamine yesterday in a shipment of furniture that had arrived from the Netherlands.
In a follow-up search, 960kg of tobacco worth €600,000 was found at a storage unit in Rathcoole, Co Dublin.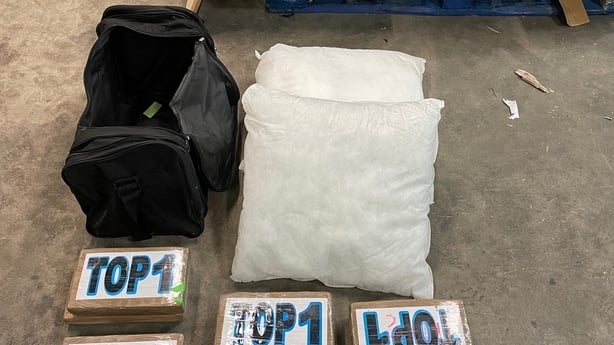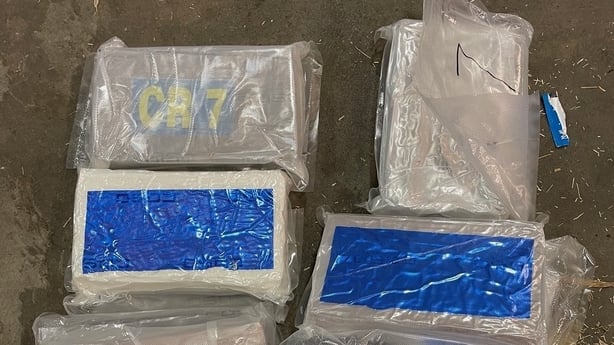 The seizure was made following a search using Revenue's mobile x-ray scanner, and a drug detector dog named Robbie.
It was part of a joint operation involving the Garda National Drugs and Organised Crime Bureau.
No arrests have yet been made.
Michael Gilligan, principal officer in Revenue's Investigation, Prosecution and Frontier Management Division at Dublin Port, said the quantity of heroin uncovered is a "very significant seizure for a country the size of Ireland and population".
Speaking on RTÉ's Today with Claire Byrne programme, Mr Gilligan said a consignment that came into Dublin Port in the last couple of days from Holland was targeted for inspection by one of their drug dog teams.
"As a result of the reaction of the drug dog, the consignment was examined," he said.
"This was a very, very significant seizure both nationally and internationally.
"It was as part of our normal programme of activity to counter the threat from transnational drug smuggling."
Mr Gilligan explained that the drugs were concealed in furniture.
He said: "What was significant about it I suppose was the variation of drugs involved. You'd cocaine, heroin, cannabis, both cannabis resin and herb, some ketamine.
"While there was 60kgs of cocaine. there was 22kgs of heroin, but 22kgs of heroin is a very significant seizure for a country the size of Ireland with a population."
Inquiries are ongoing and follow-up searches have been carried out.