Changes to work practices at Dublin Bus aimed at improving the company's competitiveness are likely to be rejected by drivers, according to sources.
As part of the proposed "Transformational Agreement", drivers may be asked to operate different routes and work different hours.
Dublin Bus will have to compete for routes again in 2024, when the National Transport Authority puts them up for tender, and it's feared that the company may lose out to other lower cost operators.
The new proposals were negotiated between Dublin Bus and unions, SIPTU and NBRU, over a number of months. A ballot will be held on 12 August.
These negotiations were conducted at both "local level" and "under the auspices of the Workplace Relations Commission", according to the company.
In a statement, the company also says that the proposals were "designed with the common aim of ensuring competitiveness in the current operating environment and to secure the right business outcomes for Dublin Bus and its employees".
As part of the changes, drivers will see increases in pay over the coming years, amounting to 14.8% for some between the end of 2021 and July 2024.
However, those opposed to the changes believe that they will negatively impact their working conditions and work-life balance.
Some drivers, who might be asked to operate new routes which they may not be familiar with, believe that they should be compensated for "loss of route identity".
While drivers will continue to work a 39-hour week, roster changes could mean that they sometimes work longer hours on certain days.
This afternoon dozens of drivers gathered outside Leinster House.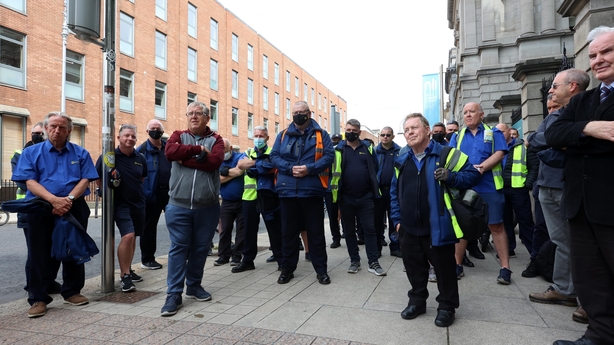 They met with the Solidarity-People Before Profit TD, Richard Boyd Barrett, who has offered his support to workers.
He described the plan as a "a race to the bottom in terms of working conditions, linked to the privatisation agenda in public transport".
Deputy Boyd Barret also said that "workers are rightly incensed at changes to rostering, duties and shifts which would see drivers working much longer and more anti-social hours that will fundamentally and very negatively impact on their conditions, quality of life and ultimately on the quality of service".
There are approximately 2,600 Dublin Bus drivers.
It's understood that drivers at the top of the six-year scale can earn up to €51,500, excluding bonuses.