A new facility which gives people access to cycling regardless of their age, ability or income is opening in Dún Laoghaire.
The Bike Hub will provide cycles which can be used by people with disabilities and upcycle donated bikes for people on low incomes.
Located opposite the RNLI station in Dún Laoghaire harbour the hub will host two trishaws bought by Dún Laoghaire Rathdown County Council and also cycles that can be used by people with different abilities.
The trishaws will be piloted by volunteers from Cycling Without Age who will take up to two passengers out for gentle spins along Dún Laoghaire's Coastal Mobility route.
Cycling Without Age, which started in Denmark, has traditionally operated with trishaws based in nursing homes, taking residents out for fresh air and social contact.
Clara Clark who heads the organisation in Ireland says the mobility route offered the opportunity of a community-based scheme explaining: "There's no pleasure for either the pilot or the passenger to be on the road with traffic or trucks so we can now cruise gently up and down the coastal mobility route..and just enjoy the sea, the boats, the children."
The Bike Hub will also host a handcycle for use by wheelchair users, a tricycle for older people or those who have trouble with their balance and a tandem.
The tandem can used by people with visual impairment who would cycle with a sighted pilot as the front of the pair.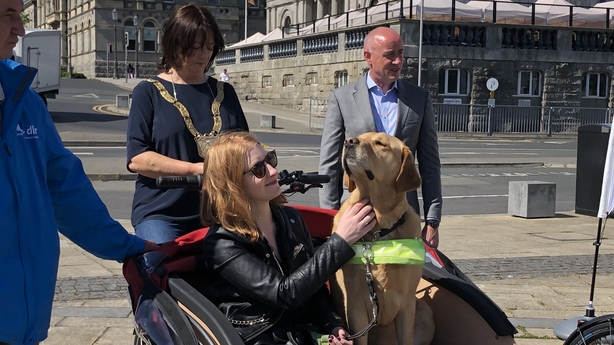 Helena Mollaghan is the Chair of Dún Laoghaire Rathdown's Disability Consultation Forum and used to enjoy cycling until her sight deteriorated to the point where it became dangerous.
She says that marked a significant milestone in how sight loss affected what she could do and was "sad and disappointing".
She says the opportunity to get out cycling would "just feel really great, to have the opportunity to get out in the open air and have the wind in your hair, getting some exercise which is so vital for your wellbeing".
Charles Mollan from Cycling Without Age uses a tricycle himself and says it has allowed him to keep cycling despite suffering with Parkinson's Disease.
"It makes such an enormous difference.. the problem with a bicycle is it's only two wheels, once you stop you fall off. With the tricycle you can stop instantly and you can go at any speed you like."
The hub is also going to be upcycling old donated bikes to give to people who have been excluded from cycling because they can't afford a bike.
Co-founder Stephen McManus says they have already identified several groups who could benefit such as children in DEIS Schools who would like to cycle to school and refugees and asylum seekers.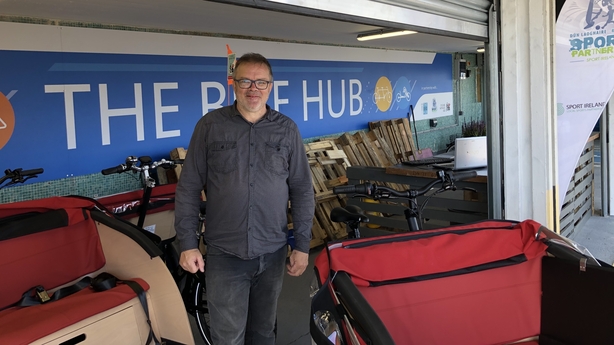 The Bike Hub will also be offering bike maintenance and safe cycling workshops for Transition Year students.
Dún Laoghaire Rathdown County Council has provided funding and the premises for the Bike Hub and Cathaoirleach Lettie McCarthy says the project is about inclusion.
"We want everyone to feel they can get on a bike, regardless of their ability and this isn't just about people who have disability, this might be for older people or somebody who has Parkinson's or something that they don't feel confident on a traditional bike."
Anybody who is interested in the services or cycles offered by the Bike Hub can get in touch through the website thebikehub.ie which will be accepting bookings from 21 June.