A number of main streets in the capital were sealed off last night as gardaí dealt with public order incidents across Dublin's south city centre.
Crowds were cleared from South William Street, South Ann Street, Dawson Street, St Stephen's Green and Temple Bar.
The public order unit deployed shields after they came came under fire in two areas and ten people were arrested.
Gardaí say that at around 9pm, they were dealing with a crowd of around 200 youths on South Anne Street in Dublin's south city centre, and that they came under fire from glass bottles and other missiles.
"Soft cap" public order units with shields were deployed, and dispersed crowds along that street, as well as Dawson Street.
Gardaí also say that they dealt with crowds across southern city centre areas, with crowds having been dispersed from St Stephen's Green, Temple Bar and South William Street.
Earlier in the evening, a cordon of uniformed gardaí prevented access to Grafton Street and members of the public order unit deployed shields as they sealed off the top of Dawson Street.
BREAKING: Gardai have cleared South William Street again this evening after large crowds began to congregate in the area at around 8:30pm. However Gardai say overall it is quieter in Dublin City Centre tonight @rtenews Video @JimmyNorman pic.twitter.com/8jfd9N2ku1

— Samantha Libreri (@SamanthaLibreri) June 5, 2021
The Garda Public Order unit form a barrier to seal off the top of Dawson street. The top of Grafton street has also been sealed off by uniformed officers @rtenews pic.twitter.com/fYi2PZungr

— Samantha Libreri (@SamanthaLibreri) June 5, 2021
Earlier, South William Street had been cleared after large crowds began to congregate there again.
It had been reported to be quieter in the city centre, but as gardaí moved people from areas like St Stephen's Green and the Iveagh Gardens crowds built on South William Street.
At around 8.30pm, a line of gardaí cleared the street in an effort to prevent a repeat of the scenes that have been witnessed there over the past two weekends.
There was a lot of activity in the city centre, but gardaí have said the majority of people are socialising responsibly.
The Minister for Health described Friday night's public order incidents in the city centre as "thuggish behaviour and completely unacceptable".
Fourteen people, including five juveniles, were arrested for public order offences in the south city centre, amid large gatherings in the area.
One garda was injured and a patrol car was damaged as glass bottles and other missiles were thrown at officers.
Stephen Donnelly said what happened in the South William Street area "was nothing short of a disgrace".
"Nobody has the right to attack our garda, absolutely nobody… it in no way represents our country," he said.
In a statement, gardaí said that there were large "organised groups" at a number of locations, including South William Street, St Stephen's Green and Temple Bar Square.
A large number of uniformed gardaí were on patrol and engaged with various groups.
Gardaí said that while dealing with a group on South William Street, glass bottles and other missiles were thrown at gardaí.
One garda sustained a leg injury and received hospital treatment. A garda patrol car was also damaged.
Among the 14 people arrested for public order offences were nine adults and five juveniles, who were detained at Pearse Street and Kevin Street garda stations.
Gardaí said that six people were charged with public order offences and released. Two received an adult caution, while one was released pending a summons for public order offences.
Five juveniles were released and referred to a juvenile liaison officer.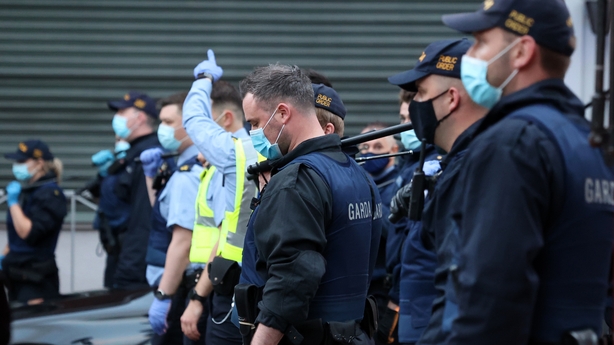 The Public Order Unit remained in the city until 3am and gardaí said they would continue to patrol and manage crowds on public streets and public spaces.
They have appealed for people to show "responsibility" while socialising outdoors this weekend.
In a statement, Superintendent Liam Geraghty said people should follow health guidelines by avoiding crowded places and observing social distancing.
McDonald seeks meeting with Garda Commissioner
Sinn Féin leader Mary Lou McDonald said she has contacted the office of the Garda Commissioner seeking to discuss her concerns around what she said was a lack of planning for large gatherings in Dublin.
She said nobody wants to see a repeat of the scenes witnessed last night and that a plan is needed to avoid that.
Ms McDonald said: "I'm looking to speak to Drew Harris because we need to know at this stage that there is a plan, we need to know what the plan is and we need very tight communication now with An Garda Síochána and Dublin City Council in particular."
She said young people in particular want to be out and about when the weather is good.
However, Ms McDonald added: "But we need proper planning to avoid the kind of conflict and the kind of scenes that we saw. Nobody wants to see a repeat of that.
"I'm very concerned at what we have seen now over a number of weekends.
"The last thing that we need on the streets of Dublin is gardaí baton-charging large groups of people on the street. I'm concerned that there might not be a plan.
"We have said that this should be an outdoor summer so there is a duty on all of us to ensure that we can have a safe and orderly outdoor summer. I know that business people in the city are concerned that there does not seem to be a plan."
Asked if the response from gardai was heavy-handed, Minister Donnelly said: "Everything that I've seen of how the gardaí have engaged in terms of the pandemic has been a graduated response. The last thing they want to be doing is having to forcibly disperse people.
"I have no doubt that whatever was required in terms of escalation, will have been required and my understanding it was it was after serious attempts of engagement and encouragement."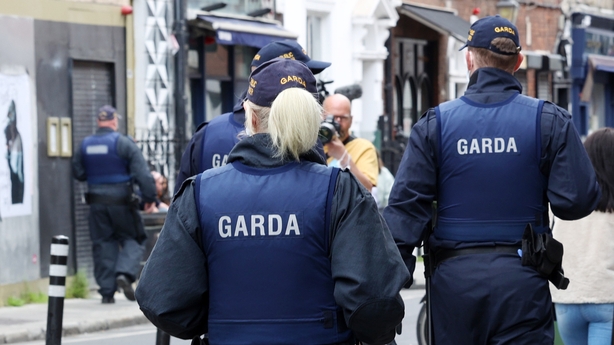 Meanwhile, businesses have called for more policing to prevent anti-social behaviour in the city centre.
Dublin Town CEO Richard Guiney called on gardaí to stop the consumption of alcohol in public places and confiscate alcohol from those gathering in public places earlier in the day.
He said a similar model of policing has been used on St Patrick's Day, which has reduced the number of anti-social incidents on that occasion.
Mr Guiney said that a Garda Control Centre was established last summer to police the reopening of the city and he called for those resources to be reinstated.
Mark O'Keeffe, the owner of the Brown Sugar hair salon on South William Street, said the recent incidents were frustrating and damaging the area's reputation.
He said clients and staff had been intimidated by the incidents on the street and he said that was a difficult situation for businesses to deal with after several months of closure.
Additional reporting Samantha Libreri, Fergal O'Brien and Mary Regan