Minister of State Patrick O'Donovan has appealed to people visiting St Stephen's Green in Dublin to respect the site.
His comments follow an incident yesterday when a group of people gained access to the Victorian bandstand which had been fenced off.
The Fine Gael TD with responsibility for the Office of Public Works (OPW) said the "fragile historic structure" had been closed off two days earlier for health and safety reasons "in order to assess the fragile historic structure following incidents of reckless anti-social behaviour in this location over the previous days".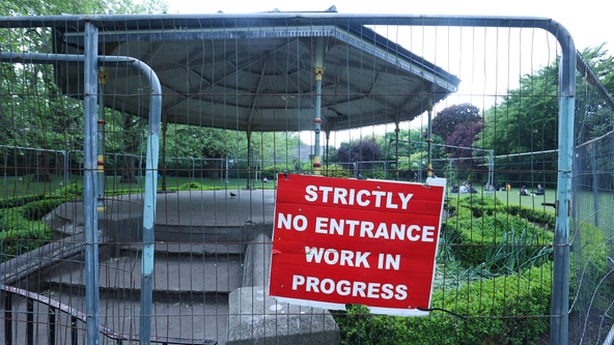 Minister O'Donovan urged people to respect the "historic important site".
The statement said that ordinarily the 150 year old structure was not accessible and that people had respected the small gate on it which was always closed.
The statement said that in the past week the bandstand had become a place "where groups were crowding in, oblivious to public health guidelines and social distancing, and posing a risk to themselves and others by climbing the slender steel supports that hold the bandstand's roof".
He said that just because people are eager to enjoy the outdoors after what has been endured over the past months, it was not an excuse to damage historic structures or to display reckless behavior.
"To prevent accidents and to assess the bandstand's structural integrity, the OPW took the decision to fence off the historic bandstand."
"It should be noted that the area that was closed off represents approximately 0.05% of the park's 22 acres, all of which continue to remain open to the public for recreational purposes", the statement said.