Residents facing eviction from an apartment complex in Dún Laoghaire say they remain in limbo, as discussions between the landlord and Dún Laoghaire Rathdown County Council, to find a solution to the problem, continue.
The seven remaining tenants of St Helen's Court have been in dispute with the owner of the complex for a number of years.
The residents have sought to remain in their apartments. However, four weeks ago, the tenants received a letter, ordering them to vacate.
Dún Laoghaire Rathdown County Council have since entered discussions with the company.
Residents say they are unsure as to what the owner wants to do with the apartments.
In a statement to RTÉ News, Dún Laoghaire Rathdown County Council explained that "the properties at St Helen's Court, Dún Laoghaire are not currently for sale, discussions regarding the leasing of vacant units at this location are ongoing. In accordance with the Social Leasing Scheme any property being considered for leasing must be vacant."
It added that "if vacant properties do become available for letting through leasing, they will be allocated in accordance with the agreed Allocation Scheme".
Residents are hopeful that a solution might be found but say they do not know what progress has been made in these discussions between the landlord and council.
Three of them joined a Right2Housing demonstration outside Convention Centre Dublin this evening.
One of them was Sean Mitchell, who has been a resident at the complex for the past seven-and-a-half years.
"It's very stressful, I'm a taxi driver, it's very, very hard to sleep. It's very hard to function during the day, when you don't know what's going to be there when you come back to the apartment. Is there going to be a letter there," he said.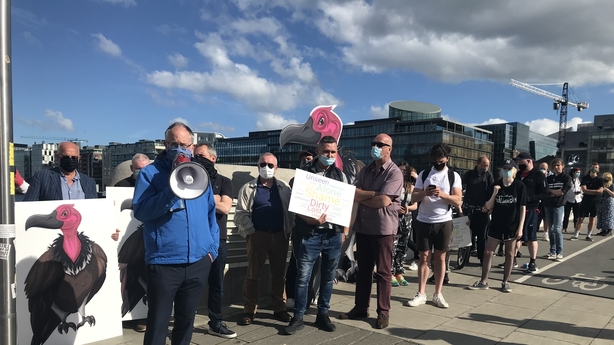 Sean said that residents have tried to find alternative accommodation, but each time they have been priced out.
"Believe me, we've tried," Sean explained.
Richard Boyd Barret, a People-Before-Profit TD, whose constituency office is located across the road from St Helen's Court said that the situation demonstrates the cruelty of the current housing crisis.
"These tenants have done nothing wrong. They've always paid the rent, they're a community and now they're faced with the very scary prospect of being made homeless, of being sent into homeless services and literally having nowhere to live," he said.
Tony Geraghty, who is recovering from a stroke, admitted that the entire situation is "deeply stressful and distressing".
Aged in his early sixties, he has been living in St Helen's Court for the past 15 years.
He said that he hoped that a solution to the ongoing situation might be found.