More than 1,000 people have attended a rally outside the Israeli Embassy in Dublin to protest violence against Palestinians.
A crowd marched from the Spire to the embassy in Ballsbridge this afternoon.
Other demonstrations were also organised throughout Ireland.
The protest was planned to coincide with global demonstrations, in response to the recent escalation of violence in the Middle East.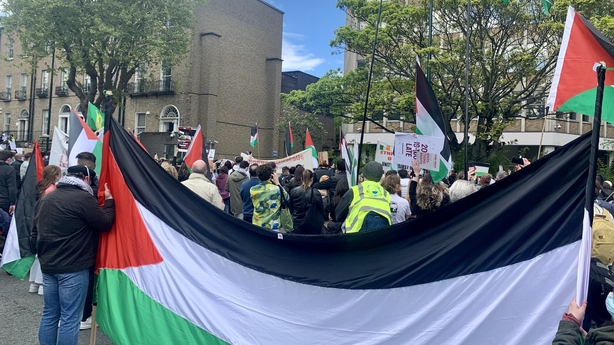 A ceasefire between Israel and Palestinian militant groups was agreed two days ago, and aid has begun to enter Gaza, the Israeli-blockaded enclave, after 11 days of violence.
Speaking ahead of the protest, chairperson of the Ireland Palestine Solidarity Campaign, Fatin Al Tamimi, said "Ireland always shows up for Palestine".
"As a Palestinian with close family in Gaza who has been so anxious and worried over the past two weeks, it has given me great strength and hope to see the people of Ireland in cities, towns and even villages all over the land out on the streets to support my people."
Hundreds of people protest at the Israeli Embassy in Dublin today with calls to "free Palestine" @rtenews pic.twitter.com/6uvOWa26qq

— Paul Deighan (@PaulDeighano) May 22, 2021
Commenting on the announcement of a ceasefire, she said: "Today in Gaza, a battered and besieged people are celebrating an end to a fortnight of violence and terror inflicted upon them by a nuclear armed apartheid state.
"But just because the bombs have stopped raining down on families doesn't mean that Israel's violence has ended. Palestinians are under attack every day from the violence of colonial oppression."
She added: "I'm talking about the daily violence of checkpoints, home demolitions, evictions, illegal settlements, night raids, political prisoners, child prisoners, enforced exile and refugeehood. The violence of unceasing violations of international law and systematic human rights abuses. The everyday and routine violence of occupation, colonisation and apartheid.
"As the news cycle moves on now that the bombs have stopped, Palestinians still need support and solidarity as they resist the many faces of Israel's brutal apartheid regime. And we know we can rely on the people of Ireland."