The Olympic champion Michael Carruth has warned of a 'lost generation' of fighters as the Covid restrictions mean boxing clubs remain shut.
While outdoor non-contact training resumes next week, for boxers, getting back into the ring is still some time off.
Drimnagh Boxing Club in Dublin is well used to producing champions, but Covid-19 and its restrictions have hit hard.
"It's been a rollercoaster," says former Olympic champion and the club's head coach, Michael Carruth.
"Some of the boxers haven't fought in over a year, so, it's going to be tough for them getting back. We have to get their fitness back first and then try get back to competitions if we don't have another wave of this (Covid-19). So, it's been very tough on all boxing clubs."
Like all clubhouses across the country, this one remains shut.
"The amount of phone calls and texts I've been getting over the last 3 months has been crazy. You can understand it, they want to get back," he says, before adding that the club has healthy membership.
There are around 85 teens on the books at Drimnagh; the question for the club is how many will return once training and boxing can recommence.
He says being a 16-year-old in the sport can be an awkward enough time, but Covid has added to the complications.
"There is no substitute for sparring or real fighting. Even hitting a bag or doing pad work is not the same as being in a ring. The punch bags, there's even so much therapy for some of the kids to hit a punchbag."
Individual training has been taking place but he says it is in the ring where the real progress is made.
"It's not easy training on your own in a house, skipping in your back garden, it's not easy shadow boxing on your own. You need someone pushing you."
For many, the club offers more than just boxing; there are life lessons here too.
14-year-old Aaron Keogh is one the club's bright prospects.
"I just like how disciplined you have to be to box," he says.
"You're training nearly every day so you don't really have time to be hanging around on the streets or doing the wrong things. The coaches keep you disciplined always telling you to keep going the way you're going and telling you to do the right thing and not be left up at the streets," he says.
"There is trouble on the streets but you just try and stay away from it," he says, adding that he misses being around the club.
They are sentiments echoed by his good friend and clubmate Kai Griffin. This teenager, too, is one to watch.
"It's been over a year no with no fights, no sparring. I'm just doing a little bit of training by myself," he says.
So, what have the last 12 months been like?
"It's been rough," he says.
"I'd rather train with someone else, rather than do it by myself. It's been rough that the club is closed... not getting to talk to anyone. This is where I have a bit of fun."
For national champion Kellie McLoughlin, the club plays an important role in her life.
"It's almost like a home to me. I go there if I need to calm down or lose a bit of steam or even if I need to have a chat."
However, the Covid grind has taken its toll and she's now thinking of packing it in.
"I think everybody's fed up with it now, especially the young kids, they're starting to give up. I know myself, I'm kind of considering is boxing even going to go back to the way it was or will I consider a different sport?
"The motivation is just gone. Ever since Covid starting, my motivation, especially for boxing even though I love it so much, my motivation is gone," she says.
Not far from the club, Sean Roche is determined to stick with it. A relative new comer to Drimnagh, he trains by himself these days, but he says not sparring means his progress has stalled.
He's recently put up a heavy bag in his back garden, and has just enough space to do some skipping. He misses the club though.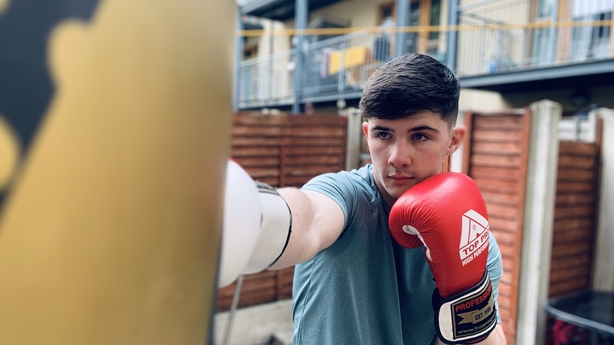 "The club has all the equipment, the ring, the proper weights. It's much easier to train at the gym because I only have a heavy bag. It's just me by myself, it feels weird.
"Training here is not like a proper training. It doesn't feel like proper training like in the club. I can go spar with my friends and keep sharp, but here I can't really keep sharp."
Patryk Adamus had his eye on Toyko 2020. An elite level boxer he was trying to get onto the Irish team to head to Japan but Covid intervened. He can do some training at the club because of his elite status but he's missed out on some valuable fights.
"I've missed about 10 competitions in the last year," he says.
It's the comradery too that he wants back.
"I miss the atmosphere in the club," he says.
And there are other challenges, training but not fighting: "It's just the motivation too ... trying to keep the training going."
Non-contact group training can resume next week.
The club plans to put up some heavy bags outside in its car park as well as getting the fighters to do some roadwork and shadow box.
All will be done with strict social distancing and hygiene measures in place, Michael Carruth says.
As to when his fighters will be able to get back in the ring, for now at least, that remains unclear.