A public consultation on a new mobility plan for Dublin's Phoenix Park has received around 2,200 submissions. The plan drawn up by the Office of Public Works would increase restrictions on cars and is supported by cycling groups.
However motorists have expressed concern at the restricted access and the reduction in parking.
Car parking was removed along the length of the main thoroughfare - Chesterfield Avenue - as a Covid measure, and this is now due to become permanent as part of the preferred option in the Phoenix Park Transport and Mobility Options Study.
The OPW says the aim of the plan is to reduce commuter traffic and increase cycling and pedestrian opportunities.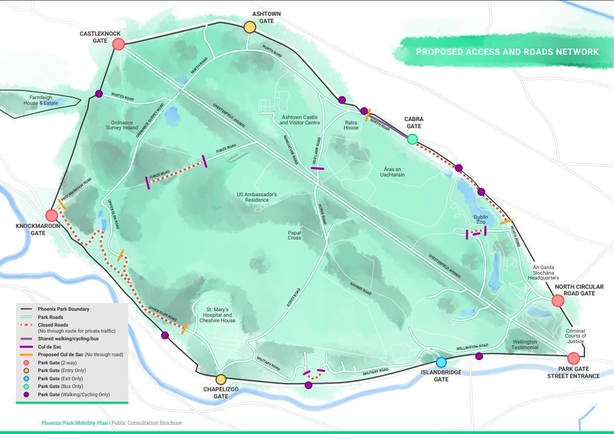 Pedestrian crossings would be provided on Chesterfield Avenue for the first time as would a regular bus service to the Zoo.
Chesterfield Avenue would be the only road allowing through traffic with side gates only open for access to work and to carparks.
Residents in Chapelizod are concerned about the displacement of traffic into surrounding areas and the air pollution this would cause.
However, the measures would take up to seven years to implement in full.
Submissions made during the public consultation which finished last Friday will be now be considered before a final plan is decided.
This is due next month.