Eleven people have been arrested in connection with breaches of Covid-19 regulations at a protest event in Dublin this afternoon.
At least 100 people took part in the protest, with a number of those present carrying anti-vaccine placards.
Gardaí were aware of the event – which began at the Wellington Monument in the Phoenix Park – in advance, as it was organised on social media.
At around 3.30pm, the protesters moved from the park down the quays to the GPO on O'Connell Street while chanting anti-lockdown slogans.
Gardaí have arrested 11 people after an anti lockdown protest in Dublin. It started in the Phoenix Park before heading down the quays to the GPO and then back to the quays. Here's a few moments from the GPO pic.twitter.com/N7NBbfuqtC

— Colman O'Sullivan (@colmanos) March 20, 2021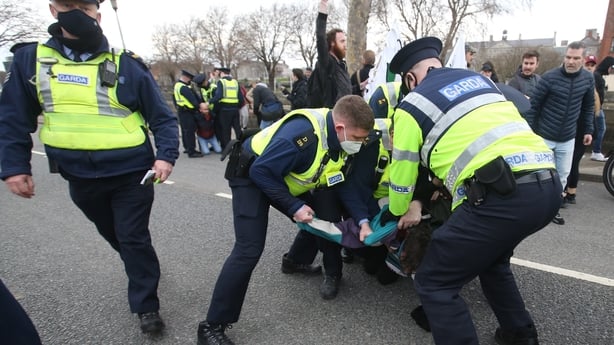 Gardaí have said that following "persistent and ongoing" non-compliance with public health regulations, they intervened with a graduated response at Victoria Quay.
In addition to the 11 arrests at the event, gardaí have said that a number of fines were also issued for people in breach of the regulations.
The garda public order unit, peaceful crowd management unit, garda mounted unit, as well as the garda dog unit were involved in monitoring the protest.
An investigation is under way into the organising of the event.
A special sitting at Dublin District Court will take place this evening at 9pm, where a number of those arrested will be charged in relation to the event.