More than 100 people gathered outside a Dublin church today for the funeral of George Nkencho, who was shot dead by gardaí last year.
The funeral at the Sacred Heart Church was attended by just ten people in accordance with Covid-19 restrictions.
But a crowd of more than 100 friends and neighbours gathered outside, some holding posters in memory of Mr Nkencho.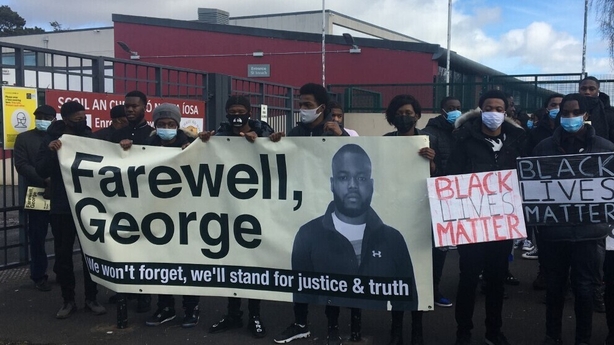 The 27-year-old was shot outside his family home in Clonee on 30 December.
In her eulogy, his sister Gloria described his death as "untimely, unplanned and unwanted".
She said: "This is in memory of my brother, for everything he stood for, for all that he believed in.
"It was untimely, unplanned and unwanted, but he is welcomed into the bosom of the Lord.
"He is at peace, he is happy, my family will be at peace."
She said she was there in remembrance of her brother.
"Let us remember him not for what they said about him but for what he is, a brother, a son, a nephew, a best friend, a cousin, a teammate, a classmate, a protector, a partner," she said.
After the service, the coffin was taken to Mulhuddart cemetery draped in the flag of Insaka Glentoran Football Academy.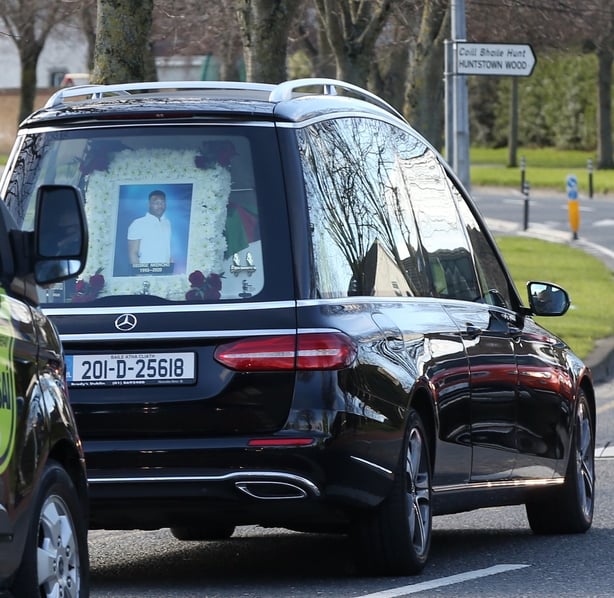 The Dublin football team, which is mainly made up of people of African descent, has a partnership with the Belfast club Glentoran.
One of Mr Nkencho's former teammates, Toyosi Shittabey, also died in violent circumstances when he was stabbed to death in Blanchardstown ten years ago.