Developer Johnny Ronan's plan for a 45-storey skyscraper on Dublin's Quays has been condemned by local councillors.
The tower would be one of three high storey apartment blocks with the others comprising 14 and 41 storeys along with smaller 8-storey blocks over a triple level basement on North Wall Quay.
Dublin City Council has already registered its objection to the plan which has gone straight to An Bord Pleanála as a strategic housing development of 1,005 'build to sell' units.
Chair of the Central Area Committee, Councillor Janice Boylan (SF) said it was accepted that the city had to build up but added "45 storeys is mental for people in low rise houses who have been living there all their lives".
Councillor Christy Burke (Ind) said it would be like being in a bubble car in the middle of Manhattan.
Councillor Ray McAdam (FG) said the proposal is in breach of the city's development plan, Ministerial guidelines and the council's own Strategic Development (SDZ) plan for the area.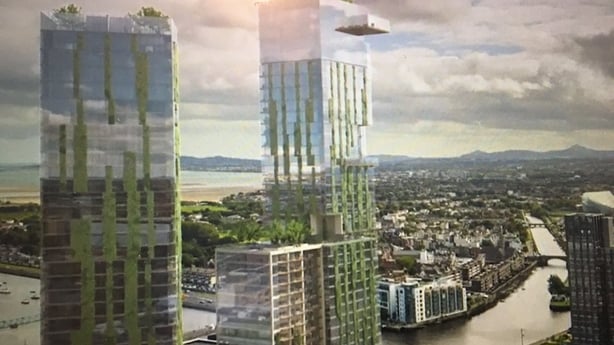 Dublin City Council previously successfully took a High Court case against An Bord Pleanála for granting permission for another Johnny Ronan building in the docklands which exceeded the SDZ plan.
Mr Ronan's company had sought to increase building height to 13 storeys even though the SDZ plan for the area which goes through public consultation only allowed a maximum of ten storeys.
The SDZ for the North Wall area allows buildings up to 11 storeys.
If the 45-storey went ahead it would have a public viewing area on top and a bar on the 44th floor, however the Part V social and affordable homes would not be in this tower.
All the other apartments would be 'build to sell' with the vast majority of all units being one and two bed room.
A decision from An Bord Pleanála is expected in May.