Designer Diarmuid Gavin has drawn up a €20 million plan for Dublin's Iveagh Market to include his donation of an entry to the Chelsea Flower Show as a permanent exhibit. 
The proposal which was commissioned by Lord Iveagh is entitled "A Market For Everyone". 
The plan comes as mediation continues between the fourth Earl who repossessed the market for the Guinness family last December, Temple Bar publican Martin Keane who claims ownership of the site, and Dublin City Council.
Martin Keane has taken High Court action against Lord Iveagh who claimed ownership from a 'reverter' clause in the original transfer of ownership agreement with Dublin City Council. 
Mr Keane has also taken action against the city council itself for turning down his latest planning scheme on the basis that he is not the owner of the site. 
The rejuvenation plan drawn up by Diarmuid Gavin and Vanessa Clarke involves 60 food stalls being used primarily by the local population but also visitors. 
"Our proposed market will operate as a 6-day a week food market, selling grocery type food to be consumed at home with a lesser amount of takeaway. It will operate from permanent affordable stalls with offers such as butchers, fishmongers, fruit & veg, cheesemongers, bakers, ethnic foods and coffee roasters. The 60 traders selected to operate within this market would be comprised of Primary Producers, Artisan Producers and Merchants" the report states.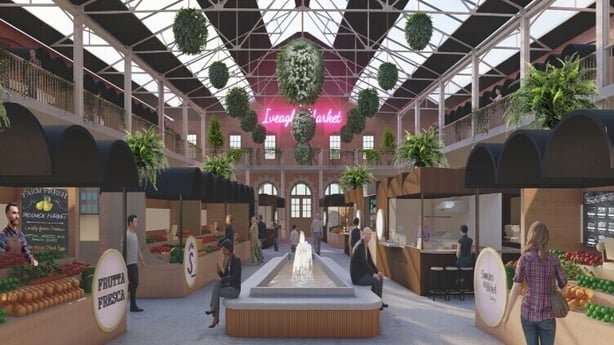 It adds Dublin is the only capital city in Europe without a food market even though nearly 12 million people passed through Dublin Airport in 2018. 
The food market would be in the Dry Market area adjacent to the Francis Street entrance while there would be an upstairs Gallery area to provide seating. 
The Wet Market area to the rear and a new laneway called Laundry Lane would, says the report, provide an exhibition and event spaces totalling 9,800 square feet with a capacity for 1,200 people.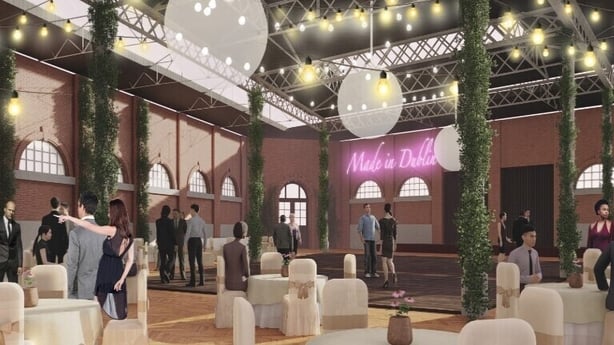 And the authors point to the Iveagh Market's location between the Guinness Storehouse and the Central Business District. 
"The space can host a range of activities from exhibitions and experiential events, conferences to receptions, fashion shows, cultural celebrations and more."
It also envisages a Digital Immersive Gallery modelled on Paris's L'Atelier Des Lumieres which reportedly attracted over 1 million visitors in its first year. 
Diarmuid Gavin has also offered his entry to the 2016 Chelsea Garden Show as a permanent exhibit. 
Modelled on the old Guinness clock that produced moving mechanical models every 15 minutes the design features an octagonal folly, garden and pond that produces a mechanical display.
Mr Gavin described it as: "Plants mechanically bobbing up and down, trees turning around, window boxes rising up the building, automatic pruning machines springing into life and the octagonal roof rising on the cartoonish folly."
Funding for the renovation of the 1906 market building and the new design is expected to come from a number of sources including Lord Iveagh, the Government and EU.
Martin Keane who owns the Oliver St John Gogarty pub and Blooms Hotel in Temple Bard paid the city council more than €2 million for the right to develop a 'Covent Garden style' facility with a restored market as well as hotel, restaurant and bar facilities. 
However, the city council announced its intention to repossess the building after Mr Keane failed to raise finance for development and two separate planning permissions lapsed between 2007 and 2017. 
Lord Iveagh has made a series of complaints against Mr Keane to a number of bodies including Dublin City Council, the Environmental Protection Agency and the Health and Safety Authority over the deterioration of the market building while under Mr Keane's control. 
It has been estimated that it will cost €30 million to repair.