Thousands of people are taking part in a Dublin Marathon with a difference this weekend.
The KBC sponsored event is being held virtually for the first time ever, with runners taking part in full marathons, half marathons, four-mile and 10-kilometre runs in their locality.
The traditional marathon for 2020 was cancelled earlier this year.
Before it was called off some 35,000 runners had applied for the race's 25,000 places.
However more than 13,000 runners are taking part in this weekend's virtual event instead, with around 6,000 running the full marathon distance.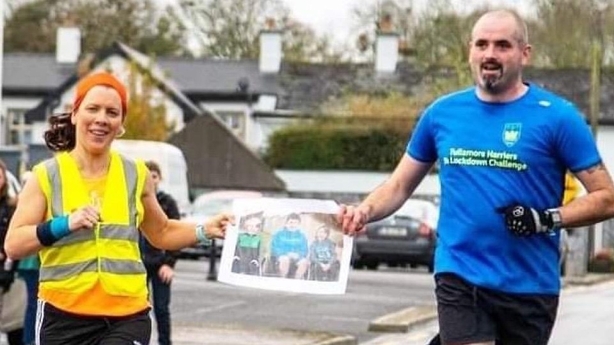 Those running in Ireland must run their course within 5kms of their home under the Level 5 Covid-19 restrictions.
"A number of runners had to change their route in the last week or so, and it was a challenge for them, but they rose to it," Jim Aughney, Race Director of the KBC Dublin Marathon, said.
And this was not the only challenge he said. "It was difficult for them, running on your own. The whole idea behind the friendly marathon is the spectators and all of our stewards out welcoming you at the end, and that couldn't be part of the event this year... but we met some of the runners here (in Corkagh Park in Clondalkin) and they were delighted that they were able to complete the challenge."
Runners can track their progress and record their times using an app designed for the marathon.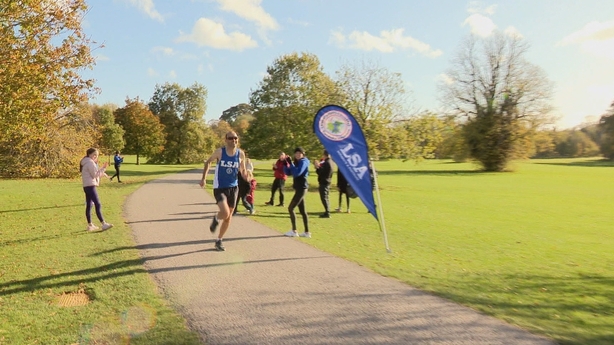 It also tells runners where on the traditional course around Dublin City Centre they would be, when they hit certain distance targets.
And while there is no medal awarded at the finish line, participants will receive one in the post later this year.
Members of athletics club LSA Donabate-Portrane were among those who took part in the event today.
Their club organised for runners to go out at staggered times around a circuit which took in the coastal road and Newbridge Park.
"We were delighted to be able to facilitate a virtual marathon, for people who had worked so hard over the last couple of months.
"To not be able to do the Dublin City Marathon was disappointing, so to do a virtual marathon was the best way we felt we could support them," LSA Donabate-Portrane Chairperson Dara Carr told RTÉ News.
Club member and Dublin Marathon veteran Share O'Farrell completed the course in 2 hours 58 minutes.
"People were outside their houses and they were clapping you on, so there was a much more local and intimate feel to it [this year], so it was actually very nice," Shane said.
Suzanne Dunne was greeted by her children as she neared the finish line in Newbridge Park.
"I found it easier to do it than the normal Dublin Marathon route, for some reason," Suzanne said afterwards, "I was on my own for a lot of it... but there were lots of cars beeping and support along the way."
Heather Lloyd started running a year and a half ago, and completed her third ever half marathon as part of the virtual event today. She felt that running her race in Donabate was a positive thing.
"Local was a plus because I knew the area... there was a lot of local support, it was really lovely. I don't know if I would ever do a marathon but I am really pleased to have done this," Heather said.
The KBC Dublin Marathon's Facebook and Instagram pages are filled with photos from participants who have been taking part around the country and around the globe.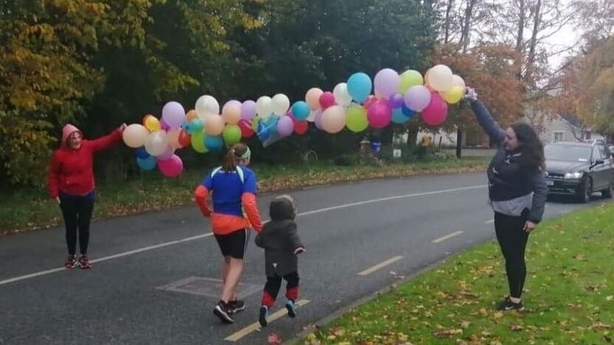 Registered runners who haven't completed their local courses yet can still do so tomorrow, which is the last day of the virtual event.
Organisers say the feedback from this weekend has been very positive, however a virtual race is not something race director Jim Aughney wants to repeat in future.
"We are hoping we will never be able to compare 2020 with any other year in the future. We want to get the crowds back, the big numbers, and our own volunteers out greeting people.
"To be able to hand [runners] their medal and T-shirt at the end is a unique experience, and let's hope that in 2021 we'll be able to all return to that."