Residents of a Dublin flats complex have complained of a massive rat infestation which has hit their homes, cars and common areas in recent months.
Dublin City Council said it has carried out a number of works to deal with the problem in Oliver Bond complex.
It also said illegal dumping of household waste is a factor as is fewer pedestrians during the Covid-19 lockdown, and the proximity of the River Liffey.
Residents have mobile phone footage of rats coming out of shores, rat droppings in people's bedrooms and in car engines.
We need your consent to load this rte-player contentWe use rte-player to manage extra content that can set cookies on your device and collect data about your activity. Please review their details and accept them to load the content.Manage Preferences
One resident Peter Graham said he caught 14 rats in traps set in his flat before the kitchen had to be replaced.
He said the rats come out of shores to run to and from bin areas and also come up through sewers especially when high tides hit the River Liffey which runs close to the estate.
Another resident Janet Walker who suffers from COPD (chronic obstructive pulmonary disease) said her son will not sleep in the home after finding a large amount of rat droppings in his bed one morning.
She said she is now on oxygen 24 hours a day because of the stress.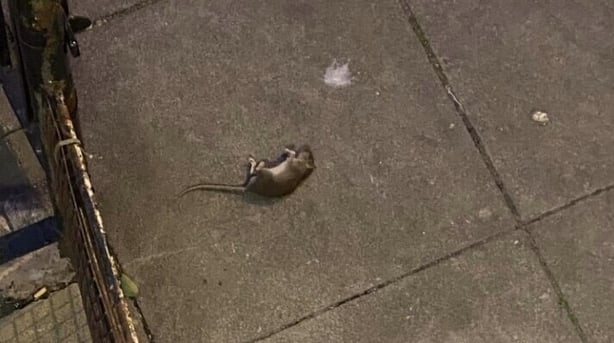 Lynette Lyons who also lives in the complex said Dublin City Council, which is the landlord, is not responding to complaints although residents still have to pay their rent.
She said one improvement would be to store bins in one secure area and that the causes of the increase in rat infestation need to be better investigated.
In a statement, the local authority said it is investigating to see if the issue is connected to any construction nearby.
The council said it had camera surveyed the pipework and repaired any damage from rats. It found that rats had managed to eat through brickwork and somehow get by trap gullies on the road.
Another survey is due and access points will be sealed, but the council said part of the problem is that modern regulations limit the strength of rat poison and where it can be placed.