A temporary speed limit of 30 kilometres per hour is being proposed across Dublin city in response to the Covid-19 crisis.
The lower speed which had been introduced for all residential streets will now also be imposed on many of the main arterial routes into the city centre for the first time.
A report from Dublin City Council officials said the plan is being introduced as part of its mobility plan to cater for social distancing among increased numbers of pedestrians and cyclists.
"The measures developed in response to a new and unprecedented emergency caused by the Covid-19 pandemic are being implemented on a temporary/emergency basis to respond to the urgent and immediate needs of the city," stated senior executive engineer Helen Smirnova.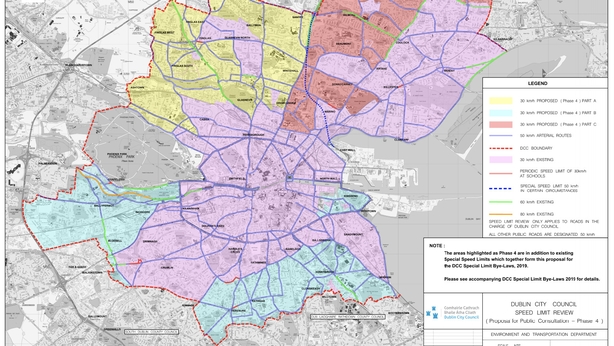 At present the default speed limit in the city area is 50km/h and signs are erected to advise motorists of other limits such as 30km/h, 60km/h and 80km/h.
Now the plan is to make 30km/h the default limit covering most roads, however higher limits would remain on some routes.
Arterial routes that will see 30km/h limits include Clontarf Road, Malahide Road, Dorset St, North Circular Road, South Circular Road, Harolds Cross Road and Rathmines Road.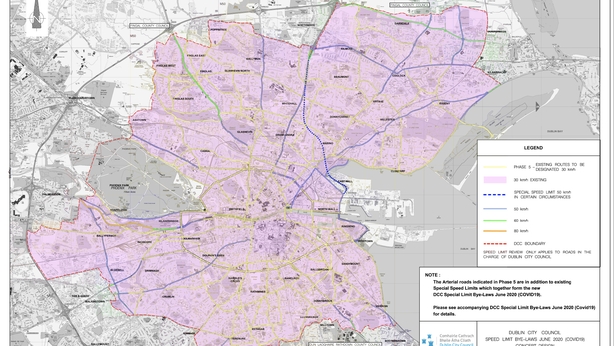 Sections of road currently 60km/h such as Kylemore Road and Stillorgan Road will be reduced from 60km/h to 50km/h.
However, some routes such as the Howth Road, Amiens St and Crumlin Road will keep their 50km/h limits.
The plan is due to be debated by councillors at a Transport Committee tomorrow before going to a full council meeting to decide if the draft by-laws can go out to public consultation.
The new laws would replace the existing by-laws and come into force by the end of the year.