Some Dublin business groups have warned that the new Liffey Cycleway and pedestrianisation measures threaten the retail trade's chance of recovery from the lockdown.
Local authorities in the capital have already taken road space to allow social distancing for pedestrians and further measures are planned which will restrict access for private cars.
Keith Gavin of the Irish Parking Association has accused Dublin City Council of discouraging private motorists.
He says private motorists account for 41% of retail spend in the city and restricting access will hamper the ability of the city's economy to recover after Covid-19.
Mr Gavin said that even before the pandemic footfall in the city has been decreasing with a reduction of 20% in Grafton Street over the last ten years.
He has accused the city council of "engineered congestion" to stop motorists coming into the city centr,e pointing out there is still traffic bottlenecks despite the number of private cars being reduced by 28% over the past 20 years.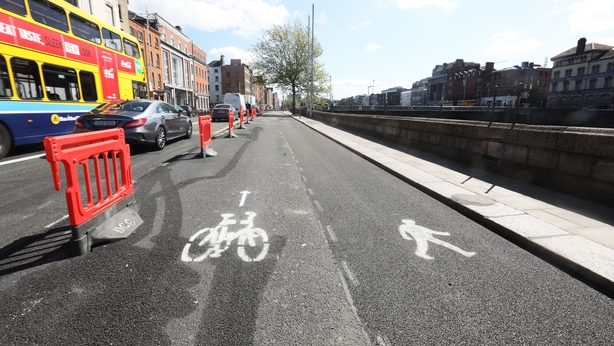 Meanwhile, the Dublin City Centre Traders Alliance - which represents city businesses such as Arnotts, Brown Thomas and the Jervis Centre - has threatened legal action over the new restrictions.
Chairman Noel Smyth has accused the city council of using Covid-19 as a "cover" to introduce measures such as the Liffey Cycleway.
However Kevin Baker of the Dublin Cycling Campaign says the city needs to adapt to change and that cycling and walking represent the safest and most sustainable means of transport.
He said business groups such as Dublin Chamber, Dublintown and Ibec have been supportive of such measures.
Mr Baker also said pedestrianised streets could offer more space for businesses.
Meanwhile, further restrictions such as a temporary pedestrianisation of College Green are among a number of measures being considered with a report due from the council in about a week's time.