An investigation is under way into an attack on a memorial wall in Glasnevin Cemetery in Dublin, which commemorates victims of the revolutionary era.
Sledgehammers were used in the incident and the names of British soldiers included on the wall were targeted.
Independent Councillor Nial Ring, who objected to the wall when it was erected during centenary celebrations, condemned the attack.
He said it might be a "wake up call" following on from controversy over the RIC commemoration, which was due to have been held last month.
Mr Ring said it was an insult to the memory of those who fought for Irish freedom to include British soldiers and, in the future, names of Black and Tans.
The RIC event was to commemorate the place of the Royal Irish Constabulary and Dublin Metropolitan Police in Irish history, but was cancelled after it drew widespread criticism from TDs, elected representatives and members of the public.
The names of all those who died in conflict from 1916 to the end of the Civil War are to be added in chronological order on the memorial wall in Glasnevin, but the space for 1919 is still blank as research continues.
A member of the British Legion, the charity that supports members and veterans of the British army, said he was "disappointed" that the memorial would be defaced in this way.
Brian Duffy, who is chairman of the Dublin branch, said "these memorials remind us of the cost of war. Death is a great leveller".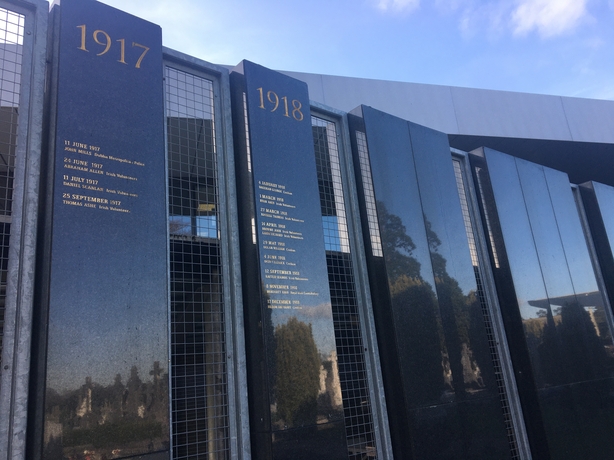 The wall was also damaged in 2017 when paint was thrown over it.
The latest attack occurred in the early hours of Tuesday morning when paint and sledgehammers were used.
The Glasnevin Trust issued a statement confirming the attack took place and said that gardaí are investigating.