Another new bridge across the River Liffey is scheduled to be in place by 2023 - more than ten years after it was first planned.
The Blood Stoney Bridge is planned as a facility for pedestrians and cyclists that would link Sir John Rogerson's Quay on the southside, to New Wapping Street on the North Wall Quay on the northside.
A Dublin City Council (DCC) transport committee hearing heard that the opening bridge would allow a navigational channel on the Liffey.
DCC's Marie Gavin said that another cyclist and pedestrian bridge is planned for beside the Tom Clarke Bridge, also known as the East-Link, but there is a 900 metre gap between this and the Samuel Beckett Bridge.
Ms Gavin said both existing bridges are operating at capacity for cyclists and pedestrians and a 20% increase in workers is expected in the area.
The cost of the new facilities at Blood Stoney Road and Tom Clarke Bridge had a combined cost estimated at €31 million, and were first planned in 2012 as part of the North Lotts and Grand Canal Dock Strategic Development Zone.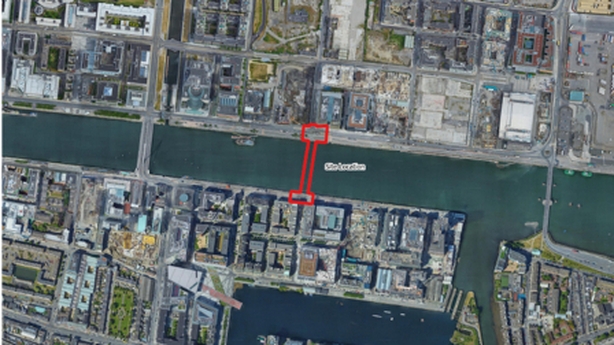 An original plan to have the bridge at Forbes Street was dropped as a DART underground station was planned at the same location. The plan to move the location to Blood Stoney Road went to the High Court after it was turned down by An Bord Pleanála.
It was also reported that the Blood Stoney Bridge was further delayed by greater priority being given to the Dodder public transport bridge which will link Sir John Rogerson Quay to Ringsend, and provide a connection for the development of the Poolbeg peninsula.
Separately, Dublin city councillors have turned down a proposal to introduce exclusion zones for election posters.
Councillors on a whole house committee of the city council rejected a permit system that would ban posters in certain areas.
Instead they want "inclusion areas" at junctions where a limited amount of posters could be erected by each candidate.
A report by Simon Brock, administrative officer for Waste Services, suggested a permit system with a €200 deposit, an exclusion zone, a €480 non-refundable charge for removal of 200 allowed posters and a €32 charge for each poster in breach of rules.
Cllr Michael Pidgeon of the Green Party said councillors favoured "inclusion zones" as they would be easier to police, but added they were having to come up with a "wraparound" to deal with the lack of government legislation.
Mr Pidgeon added that new rules would be ready for the next European and local elections, but not for the next general election.