A jury at the Coroner's Court has returned a verdict of unlawful killing in the case of Joanne Ball, whose body was found in an apartment in a house in Ranelagh in February 2018.
Her ex-husband Keith Lee had been charged with the 38-year-old's murder, but the inquest heard that he died in custody on 12 April 2018.
Ms Ball's mother addressed the Coroner's Court, describing her as "such a happy child" who was "gentle and quiet".
Catherine Ball said that Joanne was gone from them one year, nine months and two days, but that it did not seem that long.
She said what happened to Joanne was their worst nightmare.
"It has changed our lives forever. We think of her and miss her every day. She will be with us forever," she said.
Dr Myra Cullinane said that Ms Ball had given a "beautiful picture" of her daughter and extended her condolences to the family.
Earlier, the inquest heard evidence from Sergeant Enda O'Sullivan of Mountjoy Garda Station.
He outlined how he went to a house on Ranelagh Road on 15 February last year after Ms Ball's car had been found there the previous day.
He said he was aware that Ms Ball was on anti-anxiety medication and the inquiry heard that she was the subject of a missing person's case.
A key obtained from the landlord of the building to enter flat number five did not work and he could see a key on the inside of the lock.
Sgt O'Sullivan said he was immediately concerned for the safety of Ms Ball and he requested a door rammer.
The inquest heard that the door had been barricaded from the inside of the flat with a ladder and a number of other items.
When gardaí gained access to the flat, there looked to be no one there, but a man was seen in a window.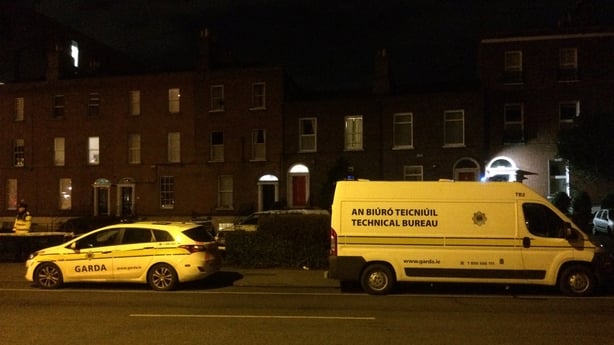 The inquest heard the man then appeared to have jumped through a window and fallen through a chair. He identified himself as Keith Lee, Ms Ball's ex-husband.
The inquest heard that the man told gardaí "tell the family I'm sorry".
The inquest heard that when asked what he was sorry for, Mr Lee replied: "I killed her". He also told gardaí that she was in one of the neighbouring gardens.
He said that Ms Ball has stabbed him in the ear and that he killed her two days previously.
Gardaí were alerted to check inside the wardrobe in the flat, where Sgt O'Sullivan described finding the body of Ms Ball.
He said her body was wrapped in a sleeping bag and tarpaulin.
Ms Ball had been reported missing by Mr Lee two days before on 13 February.
Garda Patrick Keane said he took the missing person's report from Mr Lee at Store Street Garda Station on 13 February.
He said that Mr Lee was "visibly shaken" when giving details of the disappearance.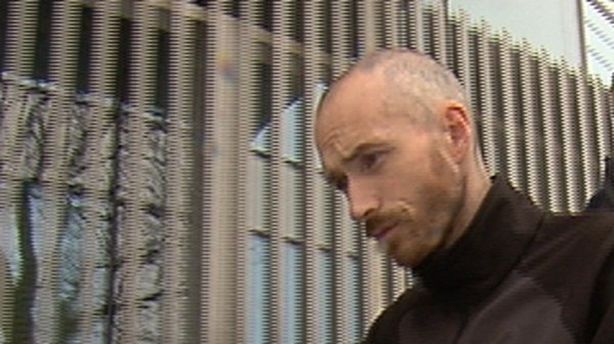 He said Mr Lee told him he was trying to reconcile with his wife and that they had been spending time together.
Garda Keane checked this detail with Ms Ball's mother, who said this was true, that "he was her world" and she said she did not have any fear for Joanne's safety with Mr Lee.
Mr Lee told gardaí that he last saw Ms Ball leaving a house on North Strand in her car. Garda Keane said he did not mention the address in Ranelagh.
Catherine Ball said that Joanne had found out that Mr Lee had cheated on her and attempted to take her own life. However, she said she started seeing him again.
On 5 February, she said Joanne went out and texted to say she would not be home that night.
She received a number of texts from Joanne's phone in the following days, but said she was concerned when one of the texts had a "x" at the end. She said Joanne never really used this.
She said she started worrying when Joanne did not come home on Monday, 12 February.
Catherine Ball said that Joanne was bubbly, beautiful and always had a laugh. She said she was very private and that she was "addicted" to Mr Lee.
Joanne's sister Jennifer said the family had always got on well with Mr Lee, although they were aware there was an issue with drugs.
She said he had been caught with drugs and that her sister had not known he was selling them. She also found out that he had been cheating on her.
Jennifer Ball said her sister told her that she felt Mr Lee was mentally abusing her and made her feel like if she did not have him then she had nothing.
On Tuesday 13 February, Mr Lee told Joanne's sister that she was not with him, that Joanne had gone home the night before and that he was going to see her the following night for Valentine's Day.
Jennifer Ball said that she thought her sister and Mr Lee might be "doing a runner" together, but it never occurred to her that her sister could be dead.
Professor Marie Cassidy told the inquest that Joanne Ball's body had been wrapped in a sleeping bag and that her feet were wrapped in a black plastic bin bag and that there was tape around the bags.
She said she had been dead for several days before she was found.
Prof Cassidy concluded that the injuries suggested possible manual and/or ligature strangulation and that the cause of death was neck compression.
Outlining a timeline of the days before Joanne Ball's death, Detective Sergeant Jonathan Kelly told the court that she and Mr Lee had stayed in a hotel in Rathmines on the night of 6 February 2018.
CCTV footage places her car in Wicklow on 7 and 8 February.
On the morning of 9 February, there were two sightings of her and Mr Lee; one at the flat on the Ranelagh Road and the second at a shop close by.
Gardaí say these were the last known sightings of Joanne Ball and that they believe she died that day sometime around midday.
The inquest heard evidence from a woman known to Mr Lee, who said he told her he had a row with Ms Ball that day and he had locked her in the apartment.