Dublin City Council has said it is in the process of setting up an expert group to examine the regeneration of the Moore Street area.
Traders on the Dublin street have denied they want to leave the street but have pleaded for help to deal with an "intolerable level" of anti-social behaviour.
A statement from the 17 remaining traders said they back the development plans of British property company Hammerson and are not looking for a pay-off to leave.
However, they say they cannot continue waiting for that to happen with the present level of disorder on the street, according to the statement issued by Tom Holbrook, chairman of the Moore Street Traders' Committee.
"We are beset from first thing in the morning to last thing in the evening by drunken groups of people who hang around the street all day.
"They urinate and defecate on the street. They assault traders. They steal from us. They interfere with our stalls. They frighten off the few loyal customers who still come in here to buy from us," he said.
The statement adds that the traders want to make it clear they back the plans drawn up by Hammerson, which involve the preservation of the 1916 buildings, the demolition of other buildings on the terrace and the creation of a street linking Moore Street to O'Connell Street.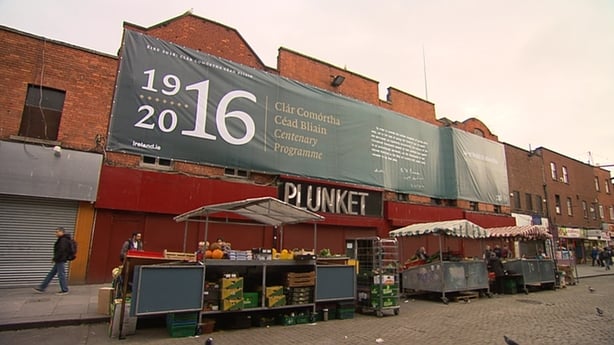 "This development is the only realistic hope we traders will ever have of seeing people coming back on to the street again, footfall would give us a chance to make our businesses viable once again".
The statement calls for effective police action and by-laws from Dublin City Council to prohibit the consumption of alcohol on the street - otherwise the traders say they are "finished".
"In the meantime though we are crying out for assistance from the City Council and garda authorities to deal with the daily challenges we simply cannot cope with any more".
Dublin City Council has said existing traders on the street will be invited to be represented on the expert group.
The local authority says there is a continuous cleaning schedule that operates daily and the council meets regularly with representatives of the traders to deal with any issues that they may have.
The council says the issue of anti-social and criminal behaviour in the street is a matter for the gardaí.