It was the dream that almost ended before it started.
"We belted down the sea," jokes Matt. "It was lovely the first day, lovely and sunny the second day. I went down to make a cup of tea and there was a sloshing noise. I lifted up the floor boards and discovered quite a lot of water. I wondered what have we bought here, she's already sinking!"
"We found her on the north-west shores of Lough Neagh," says Matt's mother, Jackie.
A journey through canals and rivers eventually saw 'Wilmaranda' reach Ireland's coast line. And after a paint job and renovations the plan was to bring Wilmaranda, a 70-year-old vessel, down to Grand Canal Dock, Dublin, to begin her life as a houseboat.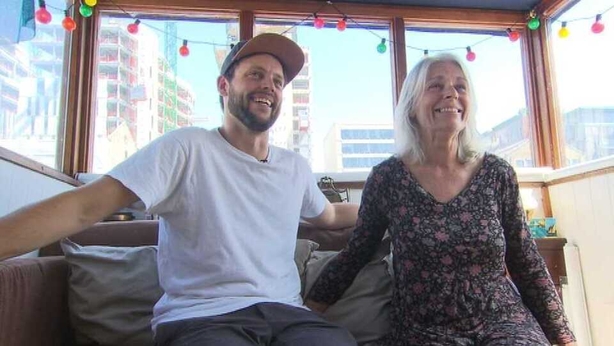 Apparently, timber boats often take on a bit of water - one of the first of many lessons Matt and Jackie would learn. It was the bilge says Jackie, recognising that a more experienced seafarer probably wouldn't have batted an eyelid.
Thankfully, Wilmaranda didn't sink. With their houseboat dream still alive, Matt and Jackie eventually arrived in Dublin.
"We spent a night outside the Point and then came into Grand Canal Dock, and that was six years ago," Matt explains. "It was my home for nearly three years." Matt's houseboat dream would be replaced by another - he now lives in a house in Dublin with his partner and baby girl.
It's not for the faint-hearted – "You have to love it."
However, Wilmaranda's days were not over. Jackie was then able to sample the romance of life on Ireland's waterways.
"It is beautiful, you wake up and see a family of swans, otters and herrings. There's always somebody walking by, everybody knows everybody by name. You'll never be without company."
But she warns that it's not for the faint-hearted. "You have to love it," she says.
One man's cramped is another man's cosy, and Matt chooses the word cosy. Wilmaranda was perfect "for one or two people", he says.
All basic utility needs are catered for at the Marina, there are waste disposal facilities on site. However, Jackie brings her bins to Matt's house to be collected.
When it comes to electricity and water "we buy cards that feed the machines at the end of the boat there, so we pay for that personally".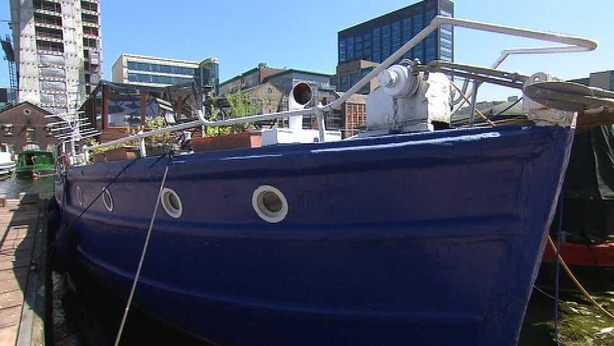 Demand for houseboat living is on the rise. Waterways Ireland says it is receiving hundreds of queries every year and has an 'interested list' for Grand Canal Dock alone running at 215.
However, there are provisions for just 28 residential mooring permits across Ireland - 20 at Grand Canal Dock and eight at Shannon Harbour in Co Offaly.
There are two types of extended moorings. One is a residential permit, which allows people to live full-time on their boat. At present, it carries a mooring charge of €278 a year, which is set to increase. That excludes utility charges. 
Other extended mooring permits allow users to stay on their boat in certain location for no more than 90 nights.
Across the Marina you'll find narrow boat owner Jim O'Riordan and friend, Reg McCabe. This isn't Jim's full-time home, he's happy with his 90-night permit.
Jim is also chairman of the Dublin branch of the representative group, the Inland Waterways Association of Ireland.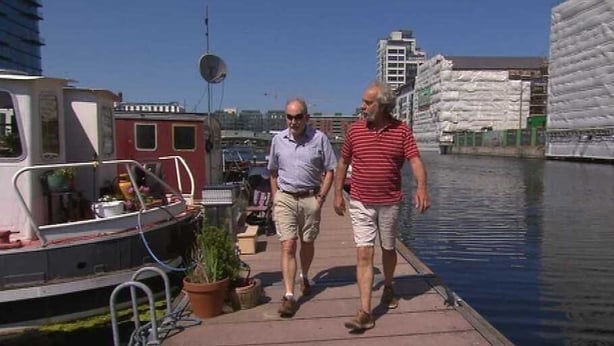 For him, expanding the provision of residential houseboats is relatively inexpensive and straight forward.
"Liveaboard berths only require moorings or a jetty. And an electricity supply and water supply. Pump-out facilities are already in place in some locations. This is basically all that's needed," said Jim.
Waterways Ireland says it acknowledges the rising demand for residential liveaboards.
In statement, it said that "long-term changes are required, including significant investment and development within planning and environmental regulations".
"The unit cost is very low and I would say the returns, from a developer's point of view, are very generous"
It added that it is working to ensure activation of all aspects of the canal network where possible. However Waterways Ireland did not say when or by how much they intended on increasing residential moorings.
Back on Jim's boat, both he and Reg are totting up the odd jobs needed on Moondance, Jim's beloved narrow boat.
Reg is the Public Relations Officer with IWAI. He believes that there is great opportunity for whoever takes on the task of expanding provision for houseboats.
"The unit cost is very low and I would say the returns, from a developer's point of view, are very generous. And if the planning system were to facilitate it, actually, the level of risk is practically zero, so what's not to like?"
We need your consent to load this rte-player contentWe use rte-player to manage extra content that can set cookies on your device and collect data about your activity. Please review their details and accept them to load the content.Manage Preferences
---
More
Listen to Tommy Meskill's report 'Demand for houseboat living on the rise'
---