A review of the Phoenix Park in Dublin has suggested additional car parks in a bid to enhance the visitor experience.
It comes as local authorities are implementing re-wilding policies, where grass is let grow, and pesticides are abandoned in a bid to encourage biodiversity.
A recent United Nations report warned that one million plant and animal species worldwide are threatened with extinction, so encouraging biodiversity is seen as vital.
The public is invited to make observations to the Phoenix Park review by Friday evening.
The largest walled city park in Europe, the park provides 1,750 acres of green space in a sprawling capital.
The Office of Public Works, which has responsibility for the Phoenix Park is compiling a strategic review of the park, parts of which are a cause of concern for new Green Party Councillor, Neasa Hourigan.
"There's a lot of building proposed, a new building centre, welcome pavilion centres at every gate, and on top of that there is a car park proposed which in the document says to make the Bloom car park more permanent, so obviously from a Green Councillor perspective, that's setting off alarm bells," said Ms Hourigan.
The public can make comments on the proposal, but the full draft review was only available to inspect at the Phoenix Park Visitors' Centre, which closes this evening.
There is also an executive summary available online.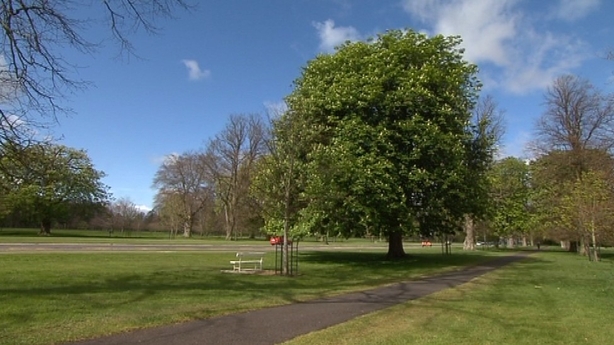 Phoenix Park Superintendent Paul McDonnell said it is not a public consultation, rather an information process, and stresses that any changes to the park would have to go through the planning process.
Ms Hourigan and the Greens are also calling for a "re-wilding" of the Phoenix Park, where native species are supported, and that nature is let take control.
But Meeda Downey, head gardener with the Phoenix Park's mobile unit says the park has a long history of wilderness and biodiversity.
"The Park has been wild for hundreds of years, we may maintain grass around paths, but that's a health and safety issue, everywhere else is let grow wild."
It is a policy that is reflected across parks and green spaces under the control of Dublin City Council.
Maryann Harris is senior executive parks superintendent with Dublin City Council and was involved in the transformation of Tolka Valley Park from a landfill in the 1970s to a 120-acre amenity now. 
"We've moved significantly over the past five years in particular," said Ms Harris. "We're not doing any spraying, we've also stepped up control of invasive species over the last 10 years, that's another example of where if you let it go wild ... if you do nothing, you'd have just a couple of species dominating, and they'd be all non-native."
But how did the locals react to the re-wilding of Tolka Valley Park?
Michael Burke, head gardener, jokes that initially people thought it was just them being lazy. "The more I talked and walked with them, they got a better understanding," he said.
"The younger kids understand, adults have a sort of clean disease thing, where everything has to be neat and clean, where over the next couple of years you'll see just a meter in from the path areas being cleared, the rest is going to go back natural with our help, and it's going to reduce our labour costs."
Mr Burke said he has seen a change in the park since they have been encouraging biodiversity, including an increase in insects and birds, and butterflies appearing earlier.
Observations on the OPW's review of the visitor experience draft report on the Phoenix Park can be made to visitorpark@opw.ie before Friday evening at 5pm.