Minister for Transport Shane Ross has said the Charlemont to Sandyford section of MetroLink may be cancelled to prevent disruption to the Luas Green line in south Dublin.
Speaking to RTÉ News, he said: "The Government and I will not countenance a situation where there is a closure of a major infrastructural project, because it would be for a long period of time.
"The idea that we could close a vein or an artery into a major city for four years is completely and utterly unacceptable, or for two years is unacceptable.
"And I won't countenance any project that comes up with a proposal that inconveniences commuters to that extent or to any extent which is even comparable to that.
"It's out of orbit the four years and it won't be happening."
During Topical Issues in the Dáil the Minister said he would not sign off on any proposal for the Metrolink that would cause significant interruption to existing transport links.
Minister Ross was responding to TDs who raised media reports that the southside of the project from Charlemont to Sandyford is to be abandoned.
The minster said he will not tolerate a situation where there was a four-year interruption to a major route, adding that two years is too long as well.
Fianna Fáil's Jim Lahart said the decision to abandon the route to Sandyford would offer a once-in-a-lifetime opportunity to develop transport links into the southwest of Dublin.
"There is huge, vast gap between the Red and Green Luas lines with no public transport provision," Mr Lahart said.
His party colleague, Jim O'Callaghan, also called on the minister to reroute the project to areas such as Kimmage, Terenure, Rathfarnham and Rathgar.
"Dublin is crying out for a metro in the southwest region," he said.
"If we had linked up thinking I'd ask you to suggest that we should direct the drilling machine southwest to parts of the city crying out for public rail infrastructure."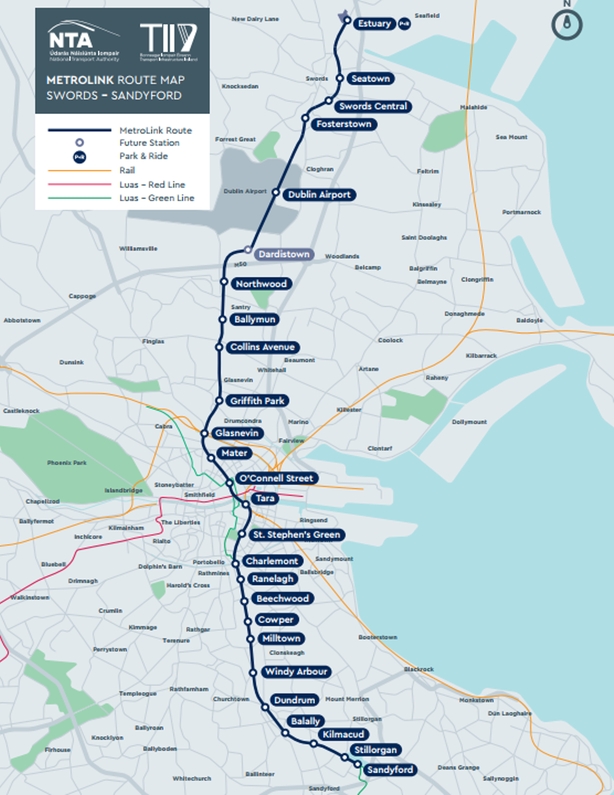 However, the Minister has ruled out such a move, saying there is insufficient demand in these areas.
"Demand does not meet threshold to justify a metro service on the Terenure corridor," he told the chamber.
Mr Ross added that demand in this area is "best met through an improved bus service".
In response, Mr Lahart said the minister had effectively said the Government does not support the provision of light rail transport to areas of his constituency of Dublin South-West.
Meanwhile, Fine Gael's Noel Rock asked his Government colleague not to allow the people of the northside be "shafted" by a "southside squabble".
The Dublin North-West TD said the "uncosted and untested" alternative routes being put forward risk jeopardizing the project.
"Our options are to proceed with the project in two parts, or assess the various alternative routes," he said.
"These alternative routes would effectively shaft the northside."
In response, Mr Ross said that "the National Transport Authority and Transport Infrastructure Ireland will shortly publish a preferred route, including how best to minimise disruption".
He said this route will be published next month, adding it will be followed by another public consultation period before a final route is confirmed.
It comes as the Green Party leader suggested that two alternative route options should be looked at for the MetroLink on the southside of the capital.
The MetroLink was due to travel underground from Swords to Charlemont at the Grand Canal, where it was to link up with the Luas and run overground.
However, it now appears that the MetroLink will end at the Charlemont Luas stop, with just the Luas continuing on to the southside.
There have been a number of flash points around the route, including at Na Fianna GAA club in Glasnevin, at Townsend Street in the south inner city and in the Ranelagh and Rathmines area.
---
Read more
Archives - Plans For Metro To Airport (2002)
Metro Public Consultation Document
---
Speaking on RTÉ's News at One, Eamon Ryan said TDs have yet to see the details of the latest plans for the long-awaited project.
Mr Ryan said that if it was being shelved, then two alternative routes - one to the southwest to Harold's Cross, Terenure, Rathfarnham and Tallaght, and one to the southeast to UCD and Sandyford - should be examined.
He said the Luas Green line was working well and closing it for an extended period "would have had real consequences".
"We need much bigger quantities of public transport for every part of the city," he said.
"I think when you have the tunnelling machine at Charlemont, if that is where it stops, there is a real question of where would you run it from there.
"The real cost of the tunnelling machine is to put it into the ground, once you have it in the ground it's much cheaper to keep it going.
"Either run it to the southwest, to Harold's Cross, Terenure, Rathfarnham, Tallaght, or else to the southeast, to UCD, Sandyford."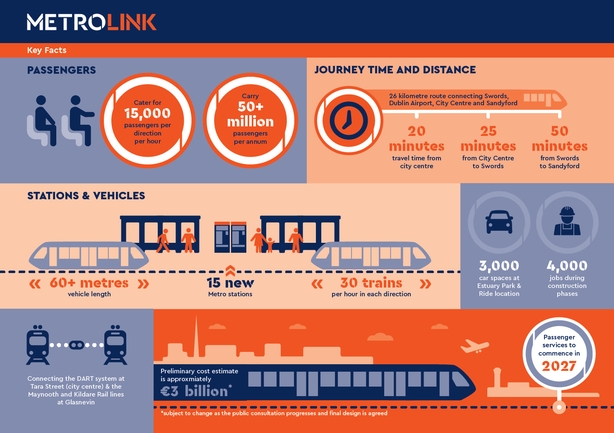 Mr Ryan, a TD for Dublin Bay South, said both of these possible routes have "real merit".
"UCD is growing very fast and there are a huge number of people going there everyday," he said.
"There is a real gain to be made if we connect UCD to Trinity and DCU on the northside. You get that corridor connecting our three major colleges.
"The advantage of the southwest line is that it is one of the worst corridors in terms of public transport at the moment and that was the original route line that was looked at."
Mr Ryan said that rather than abandoning the southern section of the project, the Government need to think "bigger and more long-term".