Members of the Connors family described how two children were pulled from a fire in a portacabin in south Dublin that killed ten people.
They were giving evidence to an inquest into the deaths at a halting site three years ago.
The Dublin Coroners Court heard that a then four year old boy and a five month baby girl were taken from the housing unit but the infant died later in hospital.
A statement from Jimmy Connors Jr was read out in which he said he kicked in the door of his brother Thomas' home but was beaten back by the heat of the flames.
He then smashed two windows and reached in to pull out a child that was his five month old baby niece Mary.
Another brother, then aged 14 years, used a pallet as a ladder into a bedroom which he said was full of smoke. He found his brother Thomas and his wife Sylvia lying on the floor but he could not lift them.
He was able to pass out his nephew Tom then aged four. He had tried to use a hose but there was only a trickle of water. He was also handed a fire extinguisher but although he said he removed the pin, it did not work.
Katie Connors, wife of Jimmy Connors Jr said she was handed the baby which she said was covered in smoke but was breathing "noisy". She said she handed the baby to Kathleen Connors McDonagh, an aunt of the child.
Kathleen Connors McDonagh cried in the witness box as she described how she was handed the baby and she put the infant in the middle of her bed in her chalet.
The inquest heard that the fire then spread to Kathleen Connors' chalet and the fire brigade were alerted to the presence of the baby girl inside and they got her out.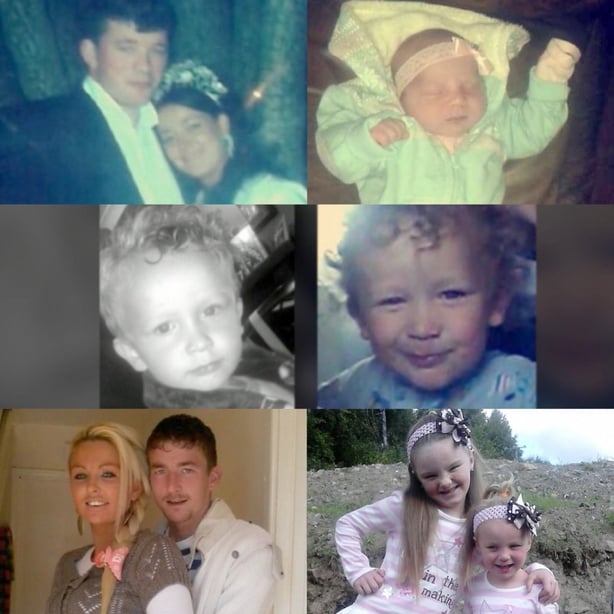 The others victims of the fire were Thomas Connors, 28, his wife Sylvia, 30, and their children Jim, five, and Christy, 3, Willie Lynch, 25, a brother of Sylvia Connors, his partner Tara Gilbert, 27, who was four months pregnant, and daughters Jodie, nine, and Kelsey, four, and 39-year-old Jimmy Lynch, another brother of Sylvia Connors. The Lynch family had been visiting the Connors.
We need your consent to load this rte-player contentWe use rte-player to manage extra content that can set cookies on your device and collect data about your activity. Please review their details and accept them to load the content.Manage Preferences
An investigation by Dublin Fire Brigade singled out a chip pan left on a hot plate of an electric cooker as the cause.
In his statement, Jimmy Connors Jr described how he had been drinking with his brother and members of the Lynch family earlier.
He said Thomas had been smoking weed and that everyone was drunk when he left. He said none of them had been eating at that time.
John Lynch, a brother of Sylvia, told the inquest that Thomas had told him earlier that council workmen were doing electrical work in his home because of a fire in the kitchen.
Solicitor for Dun Laoghaire-Rathdown County Council, Michael Staines, put it to him that this statement was made in recent days for the first time and Mr Lynch replied that he had told the Gardai about it at the time.
The younger brother who was 14 at the time also claimed there was electrical work carried out and this was the reason that the fire alarm did not go off.
Dun-Laoghaire Rathdown's director of services Thomas McHugh was recalled and said they had consulted their records and established there were no such works going on at the time.
Earlier, Detective Garda Gary Dunne gave evidence that fire extinguishers were found afterwards on the site, all were in working order and had not been used. He said a pin had to be removed from the handle before they could work.