Animal rights campaigners have criticised the culling of deer in Dublin's Phoenix Park.
Thirty-four deer were shot dead today following orders by the Office of Public Works (OPW).
The OPW has said that the culling was carried out as part of the "sustainable management" of the wild deer herd in the park. 
It said that an over-abundant deer population can lead to an increase in road traffic accidents, as well as an increase in the "potential role of deer in the epidemiology of specific diseases".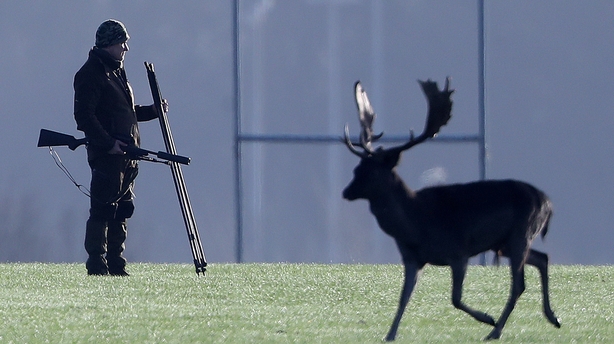 The Alliance for Animal Rights (AFAR), however, accused the Government of farming deer to make money.
"A humane alternative of contraception works on deer but is not used by the OPW as the killing alternative is more lucrative for their coffers," a spokeswoman said.
"Shooters are devoid of any empathy for innocent, undefended animals.
"No animal is safe if money is to be made.
"Shooting deer in view of other deer is barbaric, all animals experience fear at seeing their friends killed."
They called for the Government to establish an alternative, humane way of tackling the issue of culling deer.
Phoenix Park was originally formed as a royal hunting park in the 1660s and opened to the public in 1747.
The spokeswoman for AFAR added: "No animal is safe from human greed, an alternative exists here. With the growing opposition to violence towards animals, this policy of profit before respect must be stopped.
"AFAR are launching a campaign to stop this sad and unnecessary murder of innocents."
The OPW has told RTÉ News that the carcasses were purchased by a game dealer approved by the Department of Agriculture, but that at this stage it has no figure on the income received.
The OPW said that deer culling is carried out according to a "detailed protocol using best practices taking full regard of the welfare of the deer and safety of staff and the public".
It also said that it is undertaken in consultation with the School of Biology & Environmental Science in UCD and a vet expert in deer.