A total of 345 households could lose part of their front gardens as part of first set of detailed proposals for bus corridors in Dublin.
The construction of four routes from Lucan, Swords, Blanchardstown and Clongriffin to the city centre would also see the loss of 232 on-street parking spaces and 514 roadside trees.
The four routes are part of a total 16 core corridor routes that the National Transport Authority (NTA) wants to create to tackle congestion and cope with a increasing population in the capital.
Each of the 16 routes will have two-way dedicated bus lanes and two-way cycle tracks along with pavements either side and two lanes for general motor traffic in the middle.
The other 12 routes connect Ballymun, Finglas, Liffey Valley, Clondalkin, Greenhills, Tallaght, Kimmage, Rathfarnham, Bray, UCD, Blackrock and Ringsend.
Details of affected properties, loss of on-street parking spaces, roadside trees and traffic changes on these routes will be released on a phased basis.
The NTA said that householders who lose part of their front garden will get compensation of around €25,000 on average.
Most would lose 2 to 3 metres.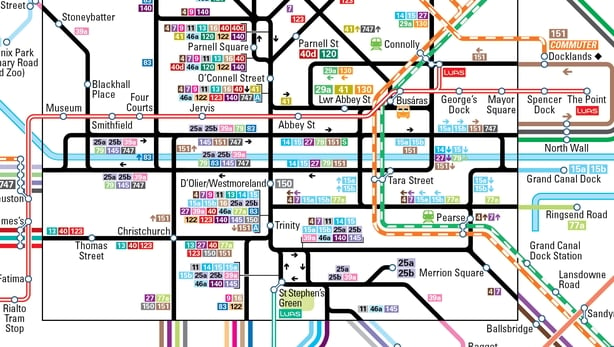 Each set of proposals will undergo a public consultation between now and next March.
The NTA intends to go to An Bord Pleanála with applications for compulsory purchase orders in 2020 and hopes to construct the bus corridors between 2021 and 2027, with each taking two years.
The transport authority says that population in the Dublin region is expected to increase by 25% by 2040 bringing it to 1.5 million.
It says that without improvement to public transport traffic congestion will get worse. It points out that buses account for 67% of public transport journeys.
The bus corridor project will involve a total of 230km of continuous bus priority and 200km of cycle tracks, which according to the NTA will reduce bus journey times by 40-50%.
It will also see park-and-ride facilities for buses, improved shelters and cashless payments.
Meanwhile, the proposed route redesign as part of Bus Connects involving high frequency, intersecting orbital and spine routes will be redesigned following 30,000 submissions during public consultation.
Many communities opposed loss of direct routes.
A new plan will be presented for a second round of public consultation next year.
Gardens plan not a 'landgrab' says NTA chief
The plans for property owners to lose part of their front gardens are not a "landgrab", according to the chief executive of the National Transport Authority, Anne Graham.
She was responding on RTÉ's Drivetime to Fine Gael TD Noel Rock, who accused the NTA of drip-feeding information to affected homeowners.
So far details of four of the 16 planned bus corridors have been released.
Mr Rock said people who live on other planned corridors face a Christmas of uncertainty.
Ms Graham said the details were being released in this manner to allow for one-to-one meetings between affected homeowners and the NTA.
She said the project is "part of a strategy to develop better services for all of Dublin" and that on average householders would receive compensation of €25,000 for their properties.