The new look for Dublin buses was officially unveiled today with the blue livery starting service in September.
A total of 24 bus routes - 10% of the total - will be operated by British company Go-Ahead.
The first to come into service will be the new 175 route from Citywest to UCD on 9 September and the remaining 23 will introduced from then until January.
All the new routes are orbital servicing suburbs and county areas from Balbriggan in north county Dublin to Newcastle, Co Wicklow.
Minister for Transport Shane Ross said international experience showed that some privatisation benefited passengers by improving standards through competition.
Managing Director of Go-Ahead Ireland Ed Wills said he believes that his company's experience in dealing with congestion in London and Singapore would be a benefit in the Dublin market.
The company won the contract through its willingness to build a new depot in Ballymount and it is part of an investment totaling €8.5m. It will employ a total of 425 people.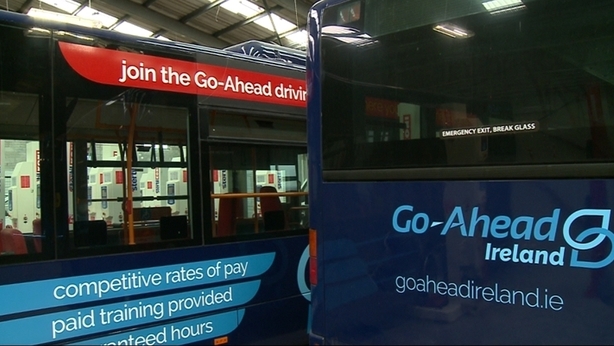 Drivers on the routes affected will have the option of joining Go-Ahead or keeping their jobs with Dublin Bus.
The routes are for bus numbers 175, 45A, 75,184, 63,185,111, and 59, starting on 7 October.
Routes 17A,102, 33A 220, 33B and 104, are starting on 18 November, with routes 18, 76, 239, 270, 238, 76A, 236, 17, 115 and 161 starting on 20 January.
Go-Ahead has a five-year contract and will adapt the routes to fit in with changes brought in by the Bus Connects programme.
Anne Graham of the National Transport Authority said the new look for Dublin Bus was to "freshen" its look as part of Bus Connects.
The colour was chosen through public consultation.