Dublin Fire Brigade have warned people not to light fires, either intentionally or accidentally, due to the extremely dry weather.
The Department of Agriculture has issued an Orange warning for fire due to current dry conditions and forecast high temperatures.
Temperatures are due to remain in the mid 20s for much of next week, and the fire warning is to remain in place until 12pm on Thursday.
Dublin Fire Brigade have asked people not to light barbecues outside of designated areas and to always take care when disposing of cigarettes.
#Drone video of the aftermath of a large gorse fire in #Portrane. The blackened areas show the extent of the fire at it's height. Top tips:
?? BBQ in designated areas
?? dispose of cigarettes carefully
?? park sensibly, ?? & ?? need access#dronesforgood #Dublin #fire pic.twitter.com/NZdNzplkbT

— Dublin Fire Brigade (@DubFireBrigade) June 23, 2018
People are also advised to take care when parking, particularly in areas with restricted access, to ensure emergency services have access when needed.
A number of units from Dublin Fire Brigade are currently tackling a number of forest fires.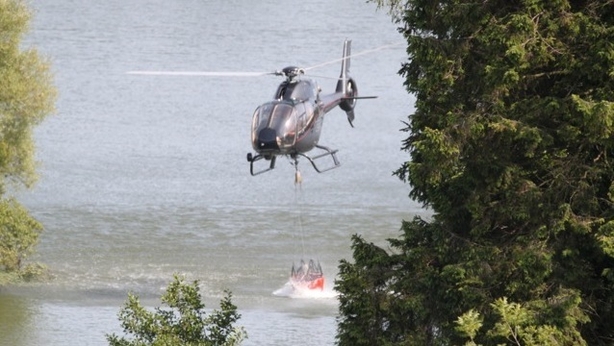 Three fire engines and a foam tender are at the scene of a fire at Saggart in west Dublin. A helicopter is also being used to tackle the blaze.
Fire crews are also working with Coillte staff to tackle a fire in the Puck's Castle area of south Dublin.
We've also got units working with @coilltenews at a fire near Puck's Castle / Barnaslingan #Dublin #fire pic.twitter.com/zDCDkLRMnO

— Dublin Fire Brigade (@DubFireBrigade) June 23, 2018
Coillte said staff have been fighting the fire at Barnaslingan Wood for the past nine days, along with Dublin Fire Brigade.
According to Patrick Buttner, a forester with Coillte, it is predominantly a gorse and scrub fire, but is now encroaching into the forest.
Teams are working around the clock to keep the fire contained, but Coillte says rain is needed to dampen down everything and cool off the embers in the ground.
It says with an orange warning in place, it is very likely that there will be more forest fires and has asked people to remain vigilant and report any fires they see to the local fire brigade.
Coillte is reminding people to to only use designated barbecue areas and never light an open campfire.