A further expansion of the 30km/h speed limit in Dublin is being proposed by Dublin City Council officials.
It is the third time the zone has been extended and officials in the Environment and Transportation Department say the schemes have been successful.
There are 12 additional zones on the southside of Dublin, including parts of Harold's Cross and Ballsbridge, and 19 on the northside including parts of Cabra and Glasnevin.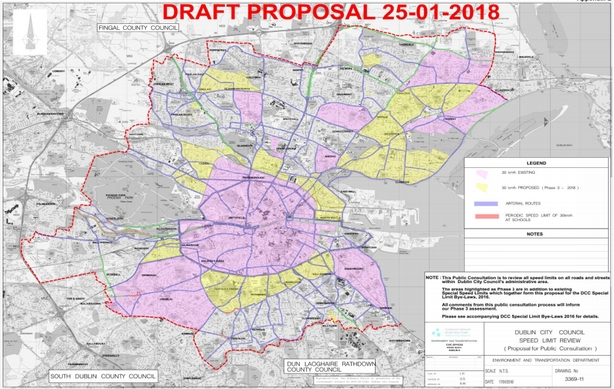 However there is no change proposed to arterial routes except for a short section of the Howth Road in Raheny where it would be reduced from 60 km/h to 50 km/h.
There are also five more "periodic speed limits" outside schools on arterial routes being proposed where the 30 km/h limit would be in operation in mornings and afternoons.
The schools involved are on Howth Road, Griffith Avenue, Terenure Road East, Clareville Road in Terenure and Seamus Ennis Road in Finglas.
The new bye laws will be presented to the Transportation Committee next Thursday and if agreed will go to a full council meeting to be passed for public consultation.