Dublin city councillors have voted overwhelmingly to revoke Aung San Suu Kyi's honorary Freedom of Dublin City award.
Councillors said they voted to rescind the award because of the Myanmar leader's failure to condemn atrocities reported against the Rohingya people.
The vote was 59 in favour, with just two against and one abstention.
It followed public interventions by fellow recipients of the honour Bob Geldof and members of U2.
However, Mayor of Dublin Mícheál Mac Donncha (Sinn Féin) said the councillors' decision had "nothing to do with celebrities who fly in and fly out again".
Most of the councillors said they were voting to remove the honour because of Ms Suu Kyi's complicity in human right gets abuses.
Fianna Fáil's Deirdre Heney said she hoped that this would focus minds in the future on who gets the award and how often the award was made.
Mr Geldof handed back his award in protest at Ms Suu Kyi continuing to have the same honour.
Dublin councillors voted 37 in favour with 7 against and 5 abstentions to also remove Bob Geldof's name from the Roll of Honorary Freemen #rtenews

— John_Kilraine (@John_Kilraine) December 13, 2017
---
Read more
RTÉ News Special: Crisis in Myanmar
Aung San Suu Kyi: Peace icon image fades
---
Yesterday, the four members of U2 wrote to each councillor asking them to remove the honour from Myanmar's leader.
Bono had previously been a public supporter of Ms Suu Kyi's efforts to bring democracy to the Asian nation where she was held under house arrest for a total of 15 years.
The council had asked its protocol committee to draw up a procedure after it was discovered there was no mechanism to remove the honour under current legislation.
A Fianna Fáil motion was also passed requiring a two thirds majority to remove an honorary freedom.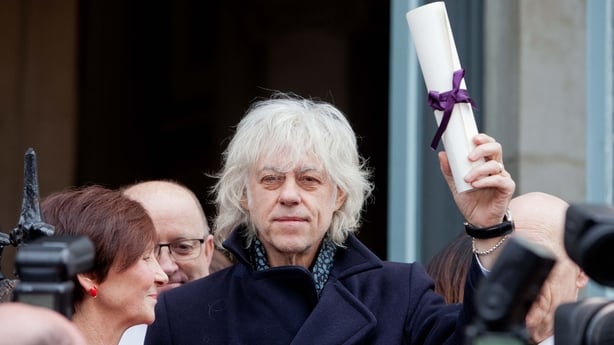 Councillors voted 37 in favour, with seven against and five abstentions, to remove Mr Geldof's name from the Roll of Honorary Freemen.
A motion to postpone the vote for three months to see if Mr Geldof still wanted to go ahead with surrendering the honour was defeated.
Many councillors complained that Mr Geldof had not consulted the council before publicly handing in his award last month.
A number of councillors in particular, including Ray McAdam, said Mr Geldof had "insulted" Dublin.
Fine Gael's Paddy McCartan said Mr Geldof had "demeaned" the honour and should not be allowed to keep it.
However, other councillors such as Labour's Andrew Montague said the proposal should be adjourned until Mr Geldof's wishes were known now that Ms Suu Kyi's award has been withdrawn.
He said councillors would be acting "in a fit of pique" to go ahead and remove his name from the Roll of Honour.
However, chief executive Owen Keegan said when he met Bob Geldof at City Hall last month "it was clear he wanted to hand it back. It was not conditional".