Some Temple Bar Square restaurants claim they could be driven out of business under new plans that would reduce terrace seating.
The city council has drawn up plans to redevelop Temple Bar Square which it says would involve a "major decluttering exercise" with the removal of bins, signage and steps.
The square would be reworked to run at a "gentle slope" running level with adjoining streets and this would increase the size of the square to nearly 1,000 square metres.
However, plans to close down existing terrace seating for restaurants in favour of a reduced, common seating area to the east of the square has provoked objections from restaurants on the square.
Gourmet Burger Kitchen says 40% of its capacity will be lost, leading to concerns about their commercial viability.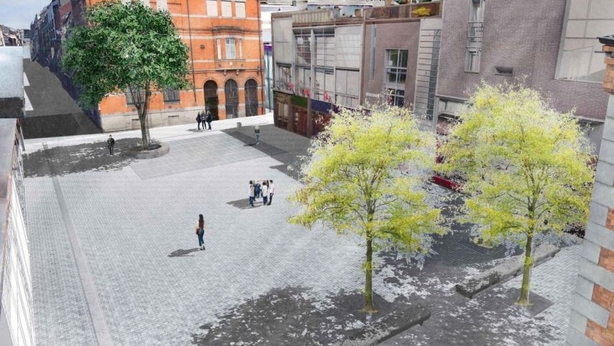 Lawyers for Café Vivaldi said the proposal will lead to the demise of their business. Representatives of the Bad Ass Café have also objected.
Adrian Cummins of the Restaurants Association of Ireland, who have complained about charges for outdoor seating, has accused the city council of having a "vendetta" against the industry.
However, the Temple Bar Company which represents a number of businesses in the area has supported the plan.
The proposal signed by city council chief executive Owen Keegan says the plan will "discontinue the encroachment of private businesses onto public lands", and that the freeing up of public space is likely to enhance the amenity value.
Councillors are due to vote on the plan on Monday evening.