One of Dublin's most celebrated cafés has reopened its doors after 1,000 days of renovations.
There was little fanfare but a warm welcome for customers of Bewley's on Grafton Street when doors opened at 11am this morning.
Elements of the café have been carefully restored including the Harry Clarke windows, the banquettes and the open fireplaces, as well as the Egyptian-motifed facades.
The bakery has been expanded as part of the renovations, so there are plenty of sticky buns.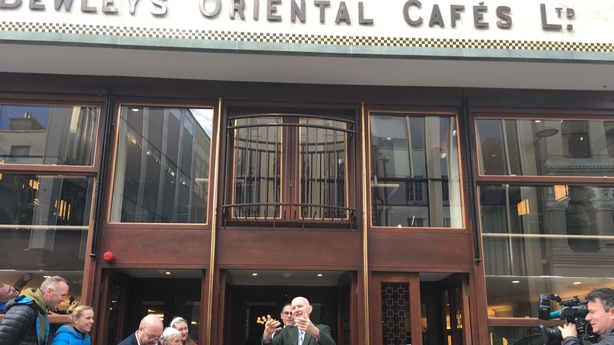 Offaly man, Denis Shields, who has been a loyal customer of Bewley's for five decades, was the first customer this morning.
He said the cafe has lost none of its charm.
A warm welcome for the first customers of the renovated Bewley's Café on Grafton Street ☕️ pic.twitter.com/aLcDJW0FSX

— Petula Martyn (@petulamartyn) November 1, 2017