Dublin's Poolbeg West development will include an extra 10% affordable housing under revised plans revealed by the city council.
The total number of homes to be built on the Poolbeg peninsula will also be increased from 3,000 to 3,500.
The revised plans were revealed in replies from Dublin City Council Chief Executive Owen Keegan to 108 submissions received during public consultation.
He said the council would agree to a submission from the Department of Housing for 10% of homes to be made available to those on the average industrial wage.
This will be in addition to the 10% legally required for social housing. 
City councillors will be voting on the plans next month and some have been pushing for extra social and affordable ratio on lands that included the old Irish Glass Bottle site.
A submission from the Green Party called for private housing to make up just 33% of the new site but Mr Keegan stated this was "unacceptably low."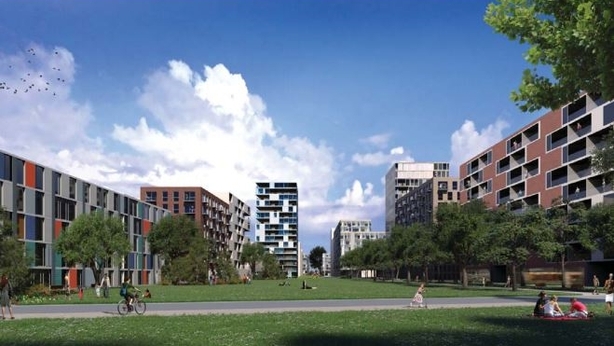 Plans for the Poolbeg Strategic Development Zone will accommodate 500 extra homes by allowing the reduction in the ratio of commercial development from 20% to 15%.
It is planned that the commercial development will act a buffer between industrial sites and four large blocks of residential apartments.
These apartments will be mainly four- to seven-storeys tall, but eight of the buildings will be between ten and 14 storeys and one will be between 14 and 16.
They will include 'build-to-rent' units and student accommodation.
The plans also include a district heating system, mainly from the Covanta incinerator, but the target date of 2020 has been removed subject to a feasibility study.
The report also states that the heating system will require a boiler station to be built near the Waste to Energy plant.
In response to a submission from the Dublin Bay Studios company, which wants to build a massive film studio complex on the peninsula, Mr Keegan said that the potential for media-related development is acknowledged but the priority is housing.
In a statement, Dublin Bay Studios said its proposal does not in any way compete with the planned housing allocation on the Poolbeg peninsula and its studios would support the development of a living working creative quarter.
The Poolbeg SDZ will be voted on by councillors on 18 May and then go to An Bord Pleanála for approval.
After that any development plans that comply with the SDZ and are granted planning permission by the city council cannot be appealed.