More than 12,000 reports of economic crime are made to gardaí every year, the Oireachtas Finance Committee has heard.
Authorised push payments involving the likes of invoice redirection, romance fraud and investment fraud are made using money mules and gardaí say it is a growing area of concern for them.
Senior members of the force told the Oireachtas Finance Committee this type of fraud is highly complex, can take place across several jurisdictions and is extremely lucrative.
Assistant Commissioner Justin Kelly, with responsibility for organised and serious crime with the Garda National Economic Crime Bureau (GNECB), said that while they have made huge strides in recent years people continue to be deceived by criminal networks.
He said that while the banks have high tech solutions like two factor authentication "the human factor remains a weak point" and there is a need to educate consumers in this area.
Assistant Commissioner Kelly told the Committee there are really tragic cases of people investing money in cryptocurrency schemes that do not exist. And they have seen a wide range of victims
"People are looking at crypto as some sort of get rich quick scheme," he said.
"We have seen civil servants, people who you would see as being traditional and conservative; retiring people putting money from gratuities into things like crypto.
"Absolutely tragic cases where people's whole life savings have been put into them."
'Whack-a-mole'
He told the members when he joined the force 30 years ago "it was all cheque fraud and skimming".
"I wouldn't like to say it's like whack-a-mole when we close one loop, but these groups are hugely organised with hierarchical structures.
"This isn't a couple of people in their box bedroom. We know exactly how they work.
"We have seen some of our own indigenous criminals moving into these easier types of fraud because it is seen as an easier way to make money.
"Cash in transit attacks were huge in the 1980s and 1990s, we haven't seen a big armed robbery like this because criminals have found easier ways to make money and not put themselves under that risk."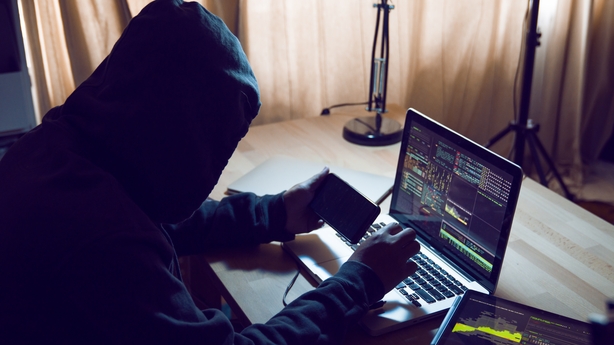 Detective Superintendent Michael Cryan from the Economic Crime Bureau said most of these schemes can only happen with the involvement of a money mule and he warned there are "huge ramifications."
So far gardaí have arrested 100 people who they believe to be a money mule or higher up in the organisation.
A number have been charged and are before the courts and others have been convicted and are serving sentences.
"You are also getting into bed with serious crime," Det Super Cryan said.
"It funds all sorts of criminality. The profits made worldwide are in billions.
"If you give control of your bank account to a criminal you will not get the money you were promised."
He said they are sometimes recruited through social media platforms and other times recruited directly.
"Often it can be through an offer of money or even a sob story," Det Super Cryan said.
"The people who recruit them are called herders; they are usually locally based.
"There are other levels and as you go higher up, they are probably located outside of Ireland.
"It's highly structured and many start out as money mules and move up the chain.
"This type of crime is different in that you can sit in one country and commit the crime in another."
He said while they do have some success in investigating economic crime, much of it goes under reported.
"Before Christmas we ran an operation with Interpol and Europol and there was just over €3 million reported stolen in a business email compromise fraud," Det Super Cryan added.
"We have recovered €1.7 million so far."