The number of reported sexual offences has increased by more than half over the past four years, according to provisional figures released by the Central Statistics Office.
Since the first quarter of 2015, reported incidents have risen 54.9% from 2,086 to 3,231 incidents in the first quarter of this year.
The CSO says there was a 10% increase between the first quarter of 2018 and the corresponding period this year.
Minister for Justice Charlie Flanagan said that while there remained a grave concern at the latest year-on-year increase in incidents of rape and sexual assault being reported to gardaí, he welcomed the fact that a growing number of victims were coming forward to the police about the offences.
Urging victims to continue to file reports, he said the force plans to have specialised Divisional Protective Service Units in all garda divisions by the end of this year.
At present, there are nine such units tasked with improving services to victims, improving the investigation of sexual and domestic violence incidents, and identifying and managing risk.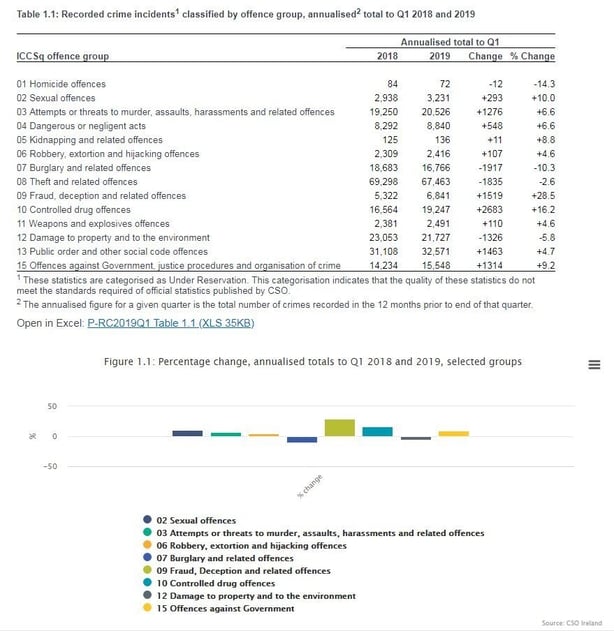 Meanwhile, the number of recorded fraud offences increased by more than a quarter during the first three months of this year when compared with the corresponding period last year.
Controlled drug offences were up by 16%, while recorded burglaries were down by 10% and criminal damage offences declined by almost 6%.
The CSO cautions that the figures are issued "under reservation" because the quality of the statistics does not meet its required standards.
We need your consent to load this rte-player contentWe use rte-player to manage extra content that can set cookies on your device and collect data about your activity. Please review their details and accept them to load the content.Manage Preferences
Mr Flanagan highlighted the 14% reduction in homicides and praised what he called the courage of frontline gardaí who continue to put themselves in harm's way to protect people from those who try to kill others.
The reduction meant there were 12 fewer homicides in the first quarter of this year compared to the corresponding period last year.
Responding to the 28% upsurge in reported fraud, the minister said the increase of more than 1,500 reflects a significant stepping-up in policing activity in relation to these types of fraud and deception offences.
Mr Flanagan said that what he called the "significant increase of 16.2% in recorded incidents of controlled drug offences" was a cause for concern.
He added that Ireland was one of seven countries partnering in the highly successful Maritime Analysis and Operations Centre - Narcotics and has assigned liaison officers from An Garda Síochána and the Revenue Commissioners to the centre's headquarters in Lisbon.
He said that last February, a further 9.5 tonnes of cocaine was seized off the coast of Cape Verde following operational information shared as a result of the initiative.