Police in Northern Ireland have arrested four men and foiled an ATM theft in Belfast.
The attempted robbery happened at a garage in the Gilnahirk area of east Belfast this morning.
The men, aged 30, 33, 37 and 41, were arrested after police received reports of suspicious activity.
It is understood the men were trying to break into the garage to remove the cash machine manually from inside.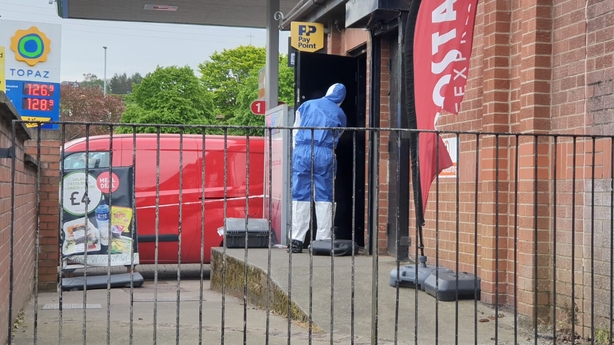 In a statement, the police appealed to anyone who witnessed suspicious activity in the area to contact them.
Hundreds of thousands of pounds have been stolen in a series of ATM thefts in recent months.
Fifteen cash machines have been stolen in 12 separate incidents across Northern Ireland since the start of the year.
Thieves have struck in counties Antrim, Derry, Down, Fermanagh, and Tyrone.
There was also a botched attempt in Co Armagh.
Since December there have also been robberies in counties Cavan, Meath and Monaghan.
The PSNI has said tackling the thefts is a priority and additional units have been deployed in all policing districts.
In recent weeks, there have been 41 searches across Northern Ireland, 15 people arrested and five men charged in connection with ATM thefts.
Two others have been charged with other offences.
The PSNI and gardaí believe at least three different gangs have been involved in the thefts.
They do not believe republican or loyalist paramilitary organisations are involved.