The Commission on the Future of Policing has recommended a new approach to community policing to ensure gardaí are more visible in communities.
It recommends a new district policing model and a new definition of policing to include community safety and a stronger focus on the prevention of harm.
The commission, which is headed up by the former head of the Garda Inspectorate Kathleen O'Toole, has been examining all aspects of the force's work for the past year.
It has also recommended a new framework for garda oversight, including the establishment of a new independent complaints body that would supersede GSOC.
Gardaí would no longer investigate complaints against members of the force.
It also says another new body, the Policing and Community Safety Commission, should supersede both the Policing Authority and the Garda Inspectorate, absorbing most of their functions and taking on new ones.
The report says new legislation should be introduced defining the garda's powers of arrest, search and detention, a human rights unit should be established, and a human rights advisor appointed.
It says changes should be made in how gardaí are trained and carried out in partnership with higher education institutions around the country.
The Garda College at Templemore should concentrate on specialist police craft and in-service training, which should be made mandatory.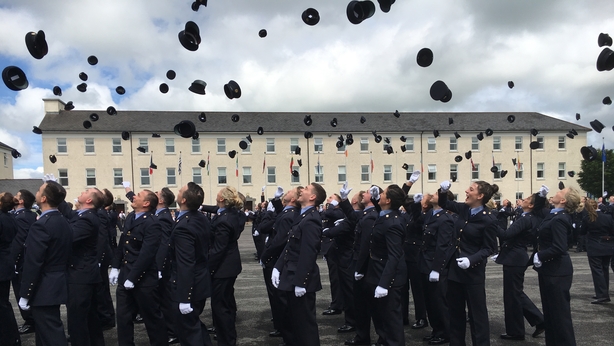 A new approach to discipline and performance management should also be introduced.
The report also recommends the establishment of a new statutory board to strengthen governance and bring greater accountability.
Garda Commissioner Drew Harris said the report would "help to deliver better policing".
He said: "The report has over 50 recommendations and many more points of good practice.
"It is important that we carefully consider the implementation of this report."
On security and intelligence, the commission recommends the establishment of a new strategic threat assessment centre (STAC), headed by a national security coordinator, to coordinate security intelligence at a central government level.
The STAC would answer to the Department of An Taoiseach and have a small, permanent staff supplemented by personnel on secondment from An Garda Síochána and the Defence Forces, as well as key departments and specialist agencies.
An Garda Síochána will retain operational responsibility for national security, the report says, and a ring-fenced budget for An Garda Síochána's security and intelligence capability will enable the necessary recruitment of specialist expertise.
This new structure will require special oversight arrangements.
An independent examiner of terrorist and serious crime legislation will be appointed to oversee how security legislation is implemented and to act as an adjudicator on requests for information from oversight bodies where necessary.
The report also calls for enhanced capabilities to counter cyber security threats and cyber crime.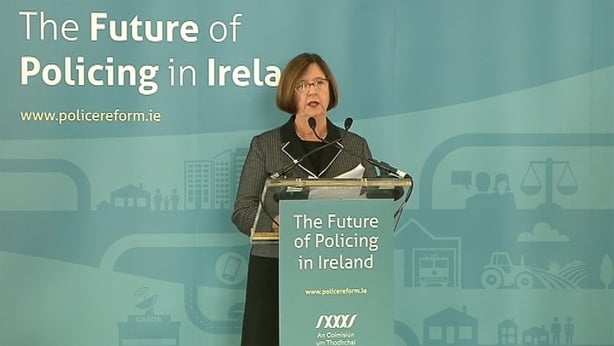 Ms O'Toole said the commission had produced "an innovative and powerful report" and she said they had listened carefully to the people of Ireland and to the police.
She said everyone wanted more gardaí working with and in the community.
Speaking at the launch of the report she also said they want a modern and well-equipped, efficient and professional police service.
Ms O'Toole said they had heard calls for more sensible arrangements for overseeing and investigating the police. She said the current system was complex and confusing.
Today's report presents a new framework for policing that will deliver better service to the community, a better organisation to work in and a better framework for oversight and scrutiny of police and an enhanced structure for national security, she added.
She said when implemented these recommendations will give the Garda Commissioner the powers of a chief executive, enabling him to lead effectively and manage change.
Ms O'Toole said the central finding of the review is that the systems currently in place must be strengthened significantly to meet existing requirements and also to address future demands.
She said the shortcomings are not merely a question of resources, there are critical systemic issues related to structures, accountability mechanisms, management processes and culture that must be addressed.
Minister for Justice Charlie Flanagan said: "The programme of reform that the Commission has recommended is undoubtedly a challenging one, requiring actions across Government.
"It will take time to implement and the Commission has suggested that the centenary of the establishment of An Garda Síochána in 2022 would be an appropriate target for the transformation to be completed.
"Clearly I and my officials will be discussing the implementation of the report with the Garda Commissioner and I have asked my officials to consult with other relevant Government Departments and with the various Agencies whose responsibilities are addressed in the Report.
"Once that process is completed, I intend to seek the Government's approval for a High-level Implementation Plan to take forward the Report."