A former couple have been jailed for their roles in the death of a father-of-four in Co Tyrone more than four years ago.
Niall Cox and Karen Marie McDonald were sentenced at Dungannon Crown Court.
28-year-old Niall Cox was previously sentenced to life in prison after pleading guilty to the murder of Pat Ward at McCrea Park, Clogher in February 2019.
Mr Ward had been socialising with Cox and McDonald on the night.
The court said that Niall Cox must serve a minimum of 20 years in prison before being considered eligible for parole.
His then partner, 38-year-old Karen McDonald, was sentenced to ten years for manslaughter.
Half of this sentence will be served on licence.
She was convicted of manslaughter following a trial earlier this year.
30-year-old Pat Ward was found dead in an alleyway in Clogher, Co Tyrone on 9 February 2019.
He had been beaten, kicked and stabbed.
He was originally from Co Sligo.
'Brutal and sustained attack'
During the sentencing hearing today, the court heard that Mr Ward had been savagely attacked in the home of Karen McDonald and her then partner Niall Cox.
He sustained numerous and severe injuries, before being dragged to an alleyway between houses.
The court heard that CCTV footage showed Niall Cox dragging Pat Ward from the front doorway of the house to the road, accompanied in close proximity by Karen McDonald.
The court heard Ms McDonald was seen lifting up Mr Ward's legs before quickly dropping them and returning home.
Pat Ward's body was left in an alleyway where it was later discovered.
In sentencing Niall Cox, Judge Stephen Fowler said Cox had carried out a "brutal and sustained attack" on Pat Ward, using "a variety of weapons".
He said that Mr Cox had stripped the deceased's body, dragged him from the house, and abandoned him in the alleyway at a time when he was still alive and unconscious.
Judge Fowler said that he was satisfied that Niall Cox's culpability was "exceptionally high", and he set the minimum tariff to be served by Niall Cox as 24 years, but reduced this sentence by four years taking into account his guilty plea.
Karen McDonald was convicted of manslaughter on 22 February this year. She had denied murdering Pat Ward.
The judge today said he could not be satisfied that Ms McDonald was involved in assaulting Mr Ward.
He said that she knew Pat Ward had been viciously attacked and was left critically injured and it was "to her shame she did nothing to assist" him.
Judge Fowler said that Karen McDonald showed a "callous and supreme indifference to this dying man's plight".
He also said that he was satisfied that Ms McDonald was involved in a clean up of the house to try to conceal evidence, and was in the bathroom when police arrived at the house the next day.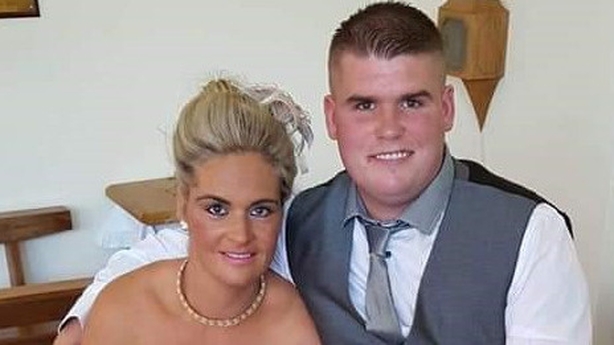 Before commencing sentencing, Judge Fowler commended Pat Ward's wife Ellen Ward, for the "courage and dignity" she had shown during the trial.
He said that "no one could be anything but moved" by her statement to the court.
He said the impact of her husband's death had been far reaching for her and her children, and the loss had impacted every aspect of her and her children's lives, as well as the lives of Pat Ward's parents and siblings.
"Nothing I can say and no sentence can replace the void in your lives, or ease the loss.
"It is not possible to measure the loss of a much loved husband, father, son and brother. All I can do is hope with the passage of time and the conclusion of these proceedings, will bring some closure," he said.