A Kinahan gang drugs "warehouse manager" has been jailed for eight years after he was caught with €1.5m worth of drugs and hundreds of rounds of ammunition six years ago.
Douglas Glynn, 38, from Fitzgibbon Court in Dublin, is already serving a sentence for his part in the attempted murder of a rival Hutch gang member.
Mr Justice Tony Hunt said Glynn was trusted with the day-to-day running and control of the warehouse and the movements of stock in and out.
Glynn was brought to the Special Criminal Court to be sentenced for drugs and firearms offences.
He was under surveillance and the Garda Drugs and Organised Crime Bureau raided Mount Dillon Business Park in Dublin 15 and found cocaine and cannabis worth around €1.5m.
They also found 260 rounds of ammunition for a variety of weapons, including Colt, Glock and Walther handguns.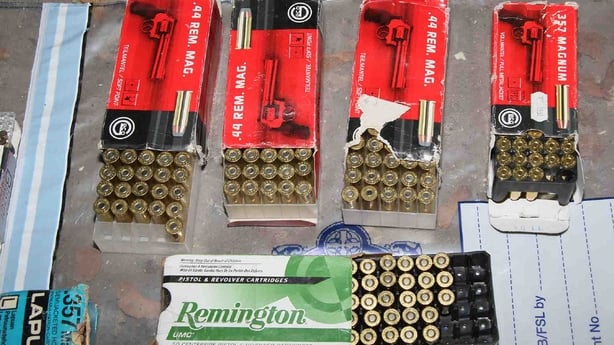 A breakthrough in encryption technology enabled gardaí to uncover messages on encrypted phones, which led to them to the warehouse.
The messages also revealed how gang members panicked about the size of boxes of drugs and how they used code words, such as a "slate of pollen" for cannabis resin, "tools" for firearms, "seeds" for ammunition and "candy", which referred to €108,000 in cash.
Glynn was the "warehouse manager". His codename was 'Oscar' and texts on his encrypted phone corresponded to the drugs and ammunition found at the lock up.
His brother Anthony has also pleaded guilty and is to be sentenced next month.
Another man, Emmet Fogarty, with an address at Brookhaven Drive, Blanchardstown, and who was responsible for the warehouse, has already been jailed for five years.
A supervisor and trusted member of the Kinahan gang, Douglas Glynn was sentenced to seven-and-a-half years in prison last year, with the final year suspended, for his part in the attempted assassination of a senior figure in the rival Hutch organised crime group.
James Gately knew his life was in danger from the Kinahan organised crime group who were involved in a murderous feud with the Hutch gang following the murder of Kinahan gang member David Byrne in February 2016 at the Regency Hotel.
Estonian hitman Imre Arakas was brought to Ireland in April 2017 to kill Gately who was living in Belfast at the time.
Douglas Glynn was one of a number of men who travelled to Northern to put a tracking device on Gately's car.
On 30 March 2017, Glynn, Peter Keating and another man travelled to Belfast and Glynn tried but failed to get in to Gately's apartment complex. He was challenged in the underground car park and escorted out.
Glynn however managed to get in a second time when another car drove out of the complex and planted the tracking device on Gately's car.
Gardaí say Glynn was "slightly above" two other Kinahan gangsters - David Duffy and Stephen Fowler - in the criminal organisation, both of whom have already been jailed, along with Keating, who was sentenced to 11 years in prison for directing the activities of a criminal organisation.
Glynn has 17 previous convictions and is a convicted drug dealer with a conviction for possession of drugs for sale and supply.
Mr Justice Hunt said that Glynn was entrusted with the day-to-day running and control of the warehouse.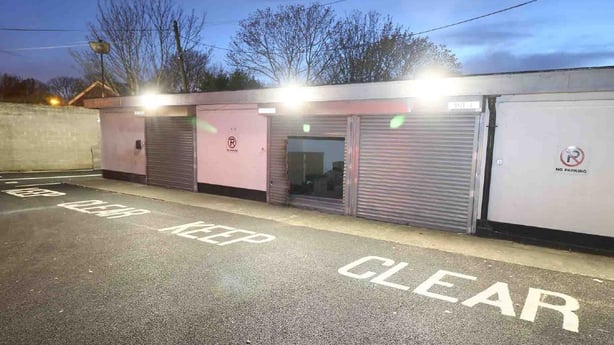 The Blackberry messages, which gardaí discovered when technological advances enabled them to access his encrypted phone, showed he had considerable input into movements of stock in and out of the warehouse.
The judge said that Glynn took part in supervision while he was simultaneously involved in the planning of a murder.
He was working for a particularly serious criminal organisation, his contribution was recurrent and frequent and he was aware of the nature and purpose of the organisation he worked for.
The ammunition was stored to protect the drugs business, the judge said, and Glynn was a "persistent and significant contributor" to the Kinahan gang's activities.
Mr Justice Hunt said he knew the extent of his involvement with the organised crime group when previously before the court, but was only caught after gardaí were later able to examine his encrypted phone.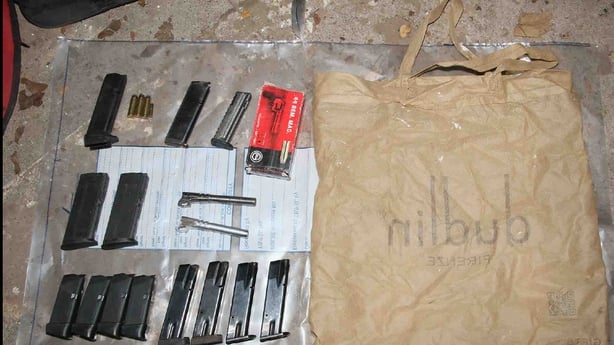 If gardaí had not reviewed the exhibits, he said, the extent of Glynn's involvement with the Kinahan gang would not have been known.
The judge said that organised crime groups are designed as hierarchies to protect those higher up. The lower level operatives take the risks, the higher up the supervisor is, the lower their visibility.
He said Glynn was not exposed until repeated investigation and the contents of the phone were exposed, therefore his offences are more grave than those at the bottom.
He was, however, like the others "dispensible". They were, the judge said, "all required as cannon fodder."
The court sentenced Glynn to nine years in prison with the final year suspended with the sentence to commence from 20 February last when he pleaded guilty, which means it "overtakes" his previous sentence.
The head of the Garda Drugs and Organised Crime Bureau welcomed the conviction and sentencing of Glynn.
Detective Chief Superintendent Séamus Boland said that tackling organised crime is a priority because drugs and firearms offences have "such a detrimental impact on communities".
"The conviction and sentencing of Douglas Glynn today, significantly disrupts such activity in the Dublin Region and helps make our communities safer," he said.