A 77-year-old former Christian Brother has been sentenced to 27 months in prison, with the final seven months suspended, after being convicted of the abuse of a schoolboy 50 years ago.
Thomas Caulfield of Castlerea, Roscommon, pleaded guilty to three sample charges of indecent assault, representing the year-long abuse of a ten-year-old boy in St Patrick's CBS National School in Tuam, Co Galway, from September 1972 to May 1973.
Judge Brian O'Callaghan commended the courage of now 60-year-old Paul Grealish for bringing the abuse to light.
He sentenced Caulfield to nine months' imprisonment on each of the charges, the sentences to run consecutively, with the final seven months suspended for mitigating factors, including his guilty plea and ill-health.
We need your consent to load this rte-player contentWe use rte-player to manage extra content that can set cookies on your device and collect data about your activity. Please review their details and accept them to load the content.Manage Preferences
In a statement after the sentencing, Mr Grealish said it was the "end of a 50-year journey to justice for me".
He added: "Since Mr Caulfield's conviction last December and since I waived my anonymity, I have felt a huge weight lifted from my shoulders.
"I have received many fantastic messages of support and encouragement, for which my family and I are extremely grateful.
"I would urge anyone impacted by the issues raised by today's conviction to talk to a family member or friend, or to reach out to one of the many support services available.
"I am very grateful for the outcome today."
Boy assaulted at teacher's desk
At a previous court hearing, Mr Grealish, a well-known Galway businessman, detailed the impact the abuse had on him in a lengthy victim impact statement.
He outlined how Caulfield perpetrated the assaults while he was standing at the teacher's desk, in front of the class.
Mr Grealish said he had been a happy go lucky child until he started fourth class, with a child's understanding of good and evil.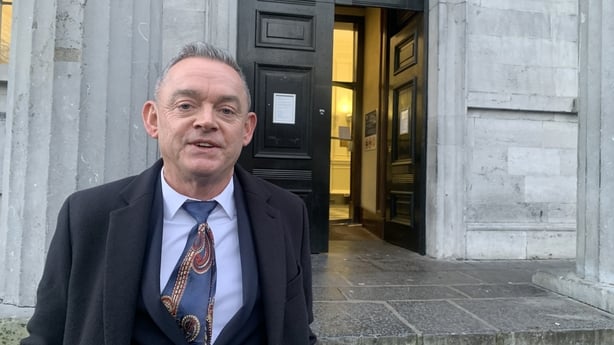 He described his time in Caulfield's class as one of "absolute terror", with an atmosphere of chaos and violence present from the start.
The 60-year-old spoke of how the offences took place under the guise of correcting homework and involved his teacher engaging in "systematic abuse", in front of his classmates.
Mr Grealish said he had nobody to turn to for help and did not tell a single person about what had happened to him until 1995.
In the intervening years, he said he had suffered academically, had been anxious and fearful and developed symptoms of depression.
After discussing his ordeal with his wife in the mid-1990s, he asked her not to disclose the matter and went another ten years before confiding in his sister about what had happened.
Additional reporting Maolra Mac Donnchadha