A 46-year-old man has gone on trial at the Central Criminal Court for the capital murder of a garda in Co Roscommon two-and-a-half years ago.
Stephen Silver from Aughavard, Foxford in Co Mayo, has pleaded not guilty to murder but guilty to manslaughter.
Garda Colm Horkan, 49, was shot dead with his own garda-issue firearm in the centre of Castlerea on 17 June 2020.
Gda Horkan was a single man who lived with his father in Charlestown in Co Mayo.
He served 25 years as a garda and although not formally appointed as a detective he was directed by a superintendent to do so and had been trained in the use of firearms and authorised to carry one.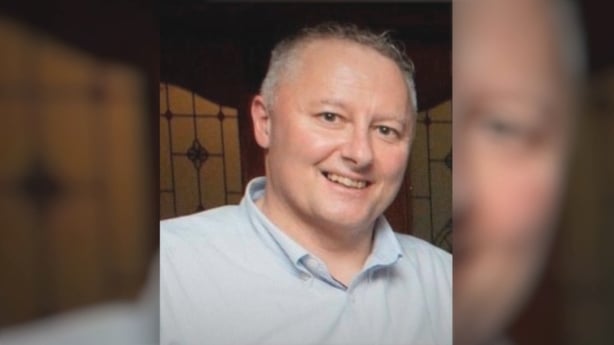 Mr Silver lived on the outskirts of Castlerea and had worked in various jobs, including construction, as a fitness instructor and owned a business as a motorcycle mechanic.
He was married but had separated three months previously and had a history of mental illness. He had been diagnosed as bipolar and had been admitted to hospital on a number of occasions.
Between 15 and 17 June 2020, he had spent time with an Australian woman and stayed in the Carlton Hotel in Dublin before she flew out on 17 June and he returned to Roscommon.
In its opening statement, the prosecution said that when Mr Silver arrived he was shown videos on Facebook of a garda raid earlier that month on the home of a friend of his, James Coyne, whom he had not met in many years.
Mr Silver got annoyed, went to Mr Coyne's home in the Knockroe Estate in Castlerea, and they went in Mr Silver's van to Castlerea Garda Station where he made a complaint about an elderly person being abused by gardaí. He said he had evidence on his phone and would be taking it further.
They then went to Mr Silver's garage where Mr Coyne tried out a motorbike and Mr Silver told him "you're natural, you can have it".
Prosecuting counsel James Dwyer said that around 10.30pm they went back to Castlerea and on the way to Mr Coyne's home pulled up on the forecourt at Castlerea Garda Station.
They then took turns riding the motorcycle with no lights or helmet around the green in the Knockroe Estate.
Neighbours phoned gardaí and one reported one of the men who looked like Mr Silver saying: "I dare the armed squad to come down here now." The two men then left and went into Castlerea for some food.
Gda Horkan came on duty at 2pm that day and pulled up beside the two men as they came into the centre of Castlerea that night. He rolled down the passenger window and Mr Silver spoke to him.
Mr Dwyer said Gda Horkan got out of the unmarked car and approached Mr Silver.
According to Mr Coyne, he told him he was arresting him and a struggle ensued between them which evolved into a struggle for the firearm.
A shot was fired and Gda Horkan was wounded.
Mr Silver rolled away with the gun and repeatedly shot Gda Horkan, emptying the gun. Fifteen cartridges were found at the scene.
Two other gardaí came on the scene and one arrested Mr Silver, whom the court heard made references to Black Lives Matter and the killing of George Floyd in the US and said: "That man tried to attack me, with all that's going on with the police in the world, I shot him."
The other garda administered CPR to Garda Horkan, but it was apparent his injuries were fatal and he died at the scene.
A post-mortem examination established that he had been shot 11 times. Bullet exit wounds suggested he had been shot while on the ground and sustained "catastrophic, non-survivable injuries".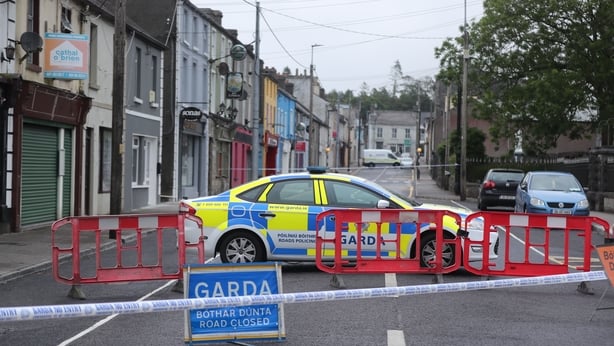 Blunt force trauma to his left eye and temple were of similar configuration to the butt of a pistol indicating he may have been hit with his gun. There were also five strike marks on nearby buildings and signs indicating shooting in four different directions with "significant variations in inclinations".
Mr Silver was arrested and seen by a GP and a psychiatrist who deemed him fit to be interviewed.
The court heard he told the interviewing gardaí: "Then this big blue car pulled up and this lad said 'who are you?'. He said 'I'm a guard'. He came up to me. I pushed him. He was in my space.
"He grabbed me. I saw him going for something. He must have shot himself. I got it off him. I must have shot him. I didn't have my glasses.
"That's how my night went. I'm angry cos a garda tried to kill me. Is that a garda car?"
Mr Dwyer also explained that the Oireachtas considered gardaí and prison officers need special protection when acting in the course of their duty and capital murder is a distinct offence. The prosecution, he said, has to prove that the accused knew the victim was a garda acting in the course of his duty.
He also said it was suggested by the defence that Mr Silver was suffering a relapse in his bipolar disorder at the time and this substantially diminished his responsibility. The prosecution disagrees and said Mr Silver had sufficient functioning mental capacity at the time he shot Gda Horkan dead.
Defence counsel Dominic McGinn told the jury that Mr Silver admits manslaughter so the prosecution does not have to prove unlawful killing.
He said it is formally admitted that Gda Horkan died as a result of being shot a number of times and that Silver admits he shot and killed Gda Horkan.
Mr McGinn also said Mr Silver accepts that he was lawfully detained, the interviews were conducted lawfully and the scene of the death was properly preserved.
He said Mr Silver also accepts the CCTV evidence was obtained and compiled lawfully and that the exhibits in the case were retained securely and looked after properly.
The trial is expected to last six weeks.