Gerard Hutch was one of the two gunmen who shot dead a Kinahan gangster, David Byrne at the Regency Hotel in Dublin almost seven years ago, the Special Criminal Court has heard.
In its closing statement, the prosecution told the three judges that the murder was carried out on behalf of the Hutch Organised Crime Group which was involved in a feud with the Kinahan Organised Crime Group.
Senior counsel Fiona Murphy said Gerard Hutch was the one giving the AK-47 rifles used in the Regency attack to individuals up north as a "present" and that it was clear from secret Garda audio recordings that they were "the gift of Gerry Hutch's to give".
She said the recorded conversation between Hutch and Jonathan Dowdall clearly "shows he's in control and that the rifles are his to do with as he wishes".
She also said that Mr Hutch was talking about the movement of the weapons at a crucial time in which they ultimately ended up in transit and seized by the gardaí from IRA man Shane Rowan just two days later.
59-year-old Gerard Hutch from the Paddocks in Clontarf has pleaded not guilty to the charge.
Ms Murphy also said Hutch was part of a six man team and that Jason Bonney and Paul Murphy helped the Hutch Organised Crime Group commit the murder by providing cars to take the gunmen away from the scene afterwards.
62-year-old Murphy from Cherry Avenue in Swords and 52-year-old Bonney from Drumnigh Wood in Portmarnock have pleaded not guilty to the charges.
Ms Murphy told the judges today that there was cogent and coherent evidence of the existence of the Hutch Organised Crime Group and that comments by Gerard Hutch on 7 March, 2016 which were secretly recorded by the gardaí, refer to the ongoing Hutch-Kinahan feud.
She also said that it is significant that there is a link between Kevin Murray, the deceased gunman known as 'flat cap' and Gerry Hutch in the audio recording. She said the man at the car referenced the amount of money he heard Hutch had paid to Murray, he directs a comment to Hutch about Murray and Hutch makes no denial of any amount of money changing hands.
The prosecution has now concluded its case.
We need your consent to load this rte-player contentWe use rte-player to manage extra content that can set cookies on your device and collect data about your activity. Please review their details and accept them to load the content.Manage Preferences
Defence closing statement
Gerard Hutch's defence counsel Brendan Grehan gave his closing statement this afternoon.
Mr Grehan says there are "two big lies" at the heart of Jonathan Dowdall's evidence against the 59-year-old which he described as "the jewel" in the prosecution case.
The former Sinn Féin councillor has testified that his father gave Hutch a keycard to the Regency Hotel used by one of the gunmen and that Hutch confessed to the murder to Dowdall a few days later.
"Both are "the two big lies" at the heart of Jonathan Dowdall's evidence and can't be relied on," Brendan Grehan said, "the two meetings are deeply flawed."
He said Dowdall changed his account of the meeting with Hutch on the Richmond Road and "the biggest flaw" in his account is that "it's capable of being corroborated by his father and no account was ever received by him."
Mr Grehan said that Dowdall claimed his father was a witness to this and would give evidence but in spite of Dowdall claiming in court that he would, he has not.
"Talk is cheap, actions speak louder than words," Mr Grehan said.
He also said there was no evidence to back up Dowdall's claim that Hutch told him he shot David Byrne dead in a park a few days after the murder.
Dowdall changed his story a number of times about the day and the time of the meeting in relation to this "stand out evidence", he said.
Mr Grehan said it would be "extraordinary if in fact this had happened" but it was never referenced again in eight hours of the secret Garda recordings between them of the 10 hour journey they took to and from Northern Ireland on 7 March 2016.
He said that Dowdall on his own evidence was not a trusted friend of Hutch, his friendship was with Patsy, and therefore the confession "is unlikely in the extreme"
Dowdall he said, previously said that Hutch was not stupid enough to confide in him and the court must be cautious about acting on the uncorroborated evidence of Jonathan Dowdall.
"Gerard Hutch did not make one admission to the Regency," Mr Grehan said about the garda audio recordings.
"There are references to the yokes, there is Mr Hutch arranging to move the three weapons which the court may find were used in the Regency as some exchange token for people he's meeting at the request of Jonathan Dowdall to try to deal with the aftermath of the Regency and the threat which the family are under."
"While there may be references to the firearms and the case that he has knowledge and control," Mr Grehan said, "Mr Hutch is not charged with any firearms offence."
Mr Grehan described Jonathan Dowdall as "a proven and admitted liar and perjurer."
He said Dowdall admitted lying previously to the Special Criminal Court and that he had lied to this court aswell.
"He's a liar who has been caught out repeatedly and carries on repeatedly as if nothing has happened," he said
Referring to Dowdall's call to Liveline after the Gardaí raided his home in March 2016, he described Dowdall as "very good, a persuasive, convincing confident practiced liar, he is shamefaced about it."
"He tells all manner of lies, big lies, little lies," he said pointing out that he lied about his contacts with Pearse McAuley, lying they were not friendly and that he only met him a few times when it was 14 times in the one year.
"He sits there and lies to you," he said to the three judges, "there were so many lies it would take days to enumerate them. Then he has a whole host of excuses why he lied.
"He'd rather justify why he lied rather than admit he had lied, including the taking tablets excuse for repeatedly telling lies. He's a bit like 'I didn't do it, nobody saw me do it, you can't prove it'."
"His first resort is to lie and then try to talk his way out of it.," Mr Grehan said, "He is an evasive witness, impossible to tie down. At various stages he refuses to answer, like a petulant teenager. "
"The fact that he thought he could get away with it must certainly raise huge alarm bells in any court's eyes in assessing anything he has to say about Mr Hutch.
Mr Grehan says that effectively he can no longer live in Ireland because its not just gangland concerns, "he's in trouble with his Provo mates."
The court has to look at his evidence in the round – bearing in mind the cautions and warnings it must give in relation to such a witness.
"There is no single unambiguous admission to the Regency on the audio by Gerard Hutch," Mr Grehan said.
"Mr Hutch found himself in a situation where his extended family were under threat and there is a suggestion that some assistance might be got up north."
"There are arguably things said and discussed with Dowdall that could suggest serious criminality on behalf of Gerard Hutch," Mr Grehan said, "but he hasn't been charged with those and this court can only concern itself with the charge of murder. One could argue it paints someone in a particular light but its all post Regency and the court does not have to concern itself with those."
Dowdall he says is "clutching at straws to back up" his claims of what was said in the park.
Hutch he says is hard at hearing and Dowdall acknowledged this.
"There are no forensics, phone records, CCTV, no evidence he was in the country on the 5 February," Mr Grehan said.
"The audio is little more than a commentary on events that are already in the public domain. The court cannot act how the prosecution are suggesting. There are quite simply no iron clad admissions that someone could say there it is, 'there is the case against Mr Hutch.'"
"If the court can't believe Jonathan Dowdall on the two big lies, you can't believe him on anything else he says about Gerard Hutch, " he said.
"The prosecution has simply not made out a case that this court or any court can be satisfied as to his guilt of the charge against him."
Earlier
Earlier, Jason Bonney's brother-in-law testified that Mr Bonney's father was having lunch with him and Mr Bonney's sister at the time defence witnesses say he was driving a vehicle that the State says was used in the murder.
Paul Byrne, who is married to Mr Bonney's sister, said it was a normal ritual for them to visit her parents and have lunch with them after they came home from holidays.
He was called by the prosecution today as a rebuttal witness to evidence given by two defence witnesses who testified it was Mr Bonney's deceased father Willie who was driving the jeep around the time of the murder.
The jeep was used to take Murray away from the scene after the murder. It is the State's case that Jason Bonney drove the jeep that day, but he claims it was his deceased father who was driving.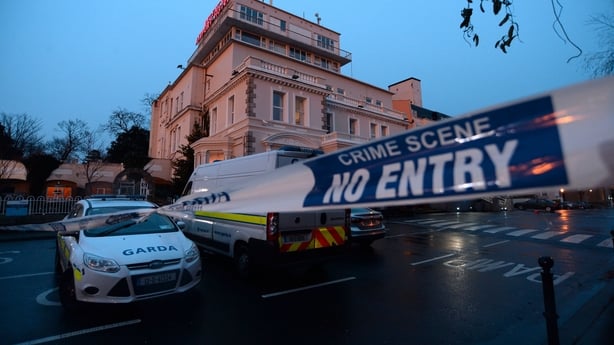 Mr Byrne said he and his wife had been on holidays in Gran Canaria and arrived back late on 4 February, 2016.
He said they would always go to Willie and Gretta's home after their holidays and they went there the following day, 5 February, the day of the murder.
Mr Byrne said that he and his wife arrived at Willie and Gretta's home that day at around midday and were embraced and warmly greeted.
He said it was a special occasion, they were there until around 4 or 4.30pm and Willie never left the house.
Mr Byrne said he parked his car behind Willie's Lexus jeep and that in all the time he knew Willie Bonney, the only black jeep he ever saw Willie drive was a black Lexus jeep.
He said the Regency came up while they were there because Gretta "always had the radio on" and they were shocked and saddened at what happened.
"The truth is in my eyes William Bonney never drove a BMW jeep," he said.
"I know what the truth is, that William Bonney and Gretta Bonney and Sharon Bonney and Olivia Bonney were in Donaghmede Drive that day. We have been traumatised and thought about it over the past few weeks, but we know where we were."
Earlier this morning, the second defence witness Peter Tyrell rejected a suggestion by prosecuting counsel Sean Gillane that it was Jason Bonney driving the jeep past Mr Tyrell's house shortly after the murder.
"As far as I'm concerned, I seen the jeep," he said.
"Any time I seen it, it was Willie, not Jason driving. I'm not mistaken. I know that jeep. I saw it every morning. I seen Willie in the jeep loads of times. I didn't know he had a Lexus."
The trial continues tomorrow.