Two men have admitted driving a teenager to the house in Drogheda where he was murdered and his body dismembered for a senior figure in organised crime who has since been shot dead.
Paul Crosby, aged 27, from Rathmullan Park in Drogheda and 49-year-old Gerard Cruise from Sherard Street in Dublin, with knowledge of a criminal organisation, pleaded guilty to facilitating the murder of Keane Mulready-Woods between 11 and 13 January 2020.
In a victim impact statement today, the child's mother, Elizabeth, described the murder as barbaric, totally shocking and one of the most brutal and traumatic murders in the history of Ireland.
Mr Justice Tony Hunt described the murder as "truly horrific" and said the two men will be sentenced at the Special Criminal Court next month.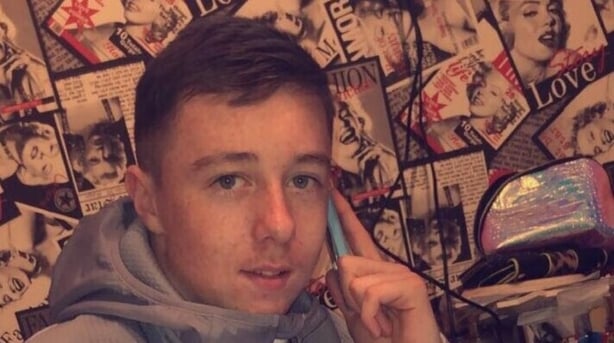 Keane Mulready-Woods was lured to a house in Drogheda in January 2020, where he was murdered and his body dismembered with hand and power tools.
His arms and legs were discovered in a puma bag at a house in Coolock in Dublin, his head and feet were found in the boot of a car burned out in Dublin and his torso was found following a search in Drogheda.
The chief suspect is Robbie Lawlor, a senior criminal gang member who was involved in the Drogheda feud, linked to several other murders and shot dead in Belfast in April 2020.
A recidivist criminal with over 40 previous convictions, Crosby met Keane Mulready-Woods on the day he went missing, paid the child's taxi fare and took him to a car where Cruise drove them to the laneway at the back of the house in Rathmullan Park where the child was murdered.
The two men also bought a van in which the child's bone fragments were later found and Cruise provided bags later found at the murder scene, one of which contained a drill.
There was no evidence that Cruise or Crosby were present when the murder took place, but Crosby was in contact by phone with Robbie Lawlor who returned to Dublin soon after the murder.
Both men today apologised for what happened with Cruise insisting he did not know the child was to be murdered.
In a victim impact statement, Keane Mulready-Woods' mother Elizabeth said while it was one of the hardest things to lose a child, to do so in "such an inhumane violent and barbaric death is totally shocking."
She said it was "one of the most brutal, traumatic murders in the history of Ireland" and she did not want any family or any human being to go through this.
She said she never thought the family would have to have two burials. "He was my baby, he had no chance to live his life, it was taken from him in a horrifying manner," she said.
"It will be us visiting his grave (on his 21st birthday) with balloons and cake. I battle myself, I couldn't protect him, the pain, nightmares, you don't get over it, you don't move on, period."
She also described the impact Keane's death had on her other two children, the fear, the extreme anxiety and the mental torture. She said it was distressing to read and hear the detail in the media.
"Some of the reporting was upsetting," she said, "it was my child they were speaking about, that crushed me."