A 20-year-old Galway student has spoken of the devastating and life changing injuries inflicted upon her by an illegal firework in Galway's Eyre Square just over a year ago.
Katie Marnell, from Knocknacarra, lost the sight in her left eye after being struck in the face while waiting at a bus stop with friends.
Alex Byrne, 23, from Sandyford Road, Dundrum in Dublin was jailed for 18 months for assault causing serious harm.
In a victim impact statement read out in Galway Circuit Court, Ms Marnell said she is still haunted by memories of that night in October 2021, lying on the ground in excruciating pain and screaming for help as red sparks rained down on her. She said her life has changed drastically.
"These past two years have been devastating," she said. "It's a challenge every day to get up and just get through the day. It's been very difficult for me."
There were hundreds of students in Eyre Square on the night of the incident, which caused Ms Marnell to lose her left eye. Her dreams of becoming a surgeon have been shattered, and her life altered forever by this unimaginable trauma.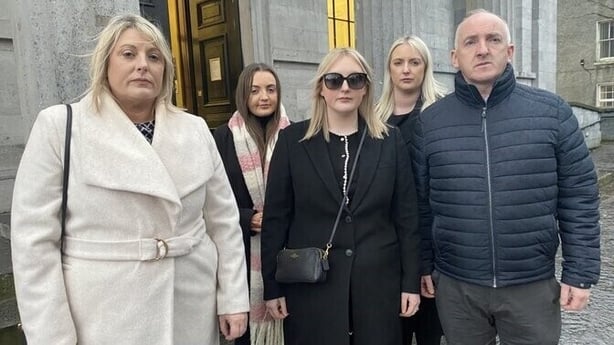 Ms Marnell and her family did not comment on the sentence handed down to Mr Byrne, but she had a message for those who engage in reckless behaviour.
"I'm just hoping that this will really highlight the devastating and life changing effects of illegal fireworks and there needs to more campaigning on the dangers around them," she said.
"I still suffer nightmares but I get strength from the support of my parents and family and friends. Even the general public have been so compassionate and kind to me over the past year."
Judge Brian O'Callaghan said that Mr Byrne had shown genuine remorse and issued a complete and fulsome apology to his victim in court today. His family were also present in court and were visibly upset.
The judge said that the 23-year-old man had no previous convictions. He had addressed issues around alcohol and had taken responsibility for his actions.
Judge O'Callaghan that Mr Byrne had not intended to cause harm but that his actions were as a result of gross criminal recklessness and warranted a custodial sentence.
He said where there is harm caused there has to be punishment. He sentenced Mr Byrne to two years and nine months in prison, with the final 15 months suspended.
Ms Marnell's mother, Cora Marnell, said the family have endured a horrendous time and paid tribute to her daughter who has now embarked on a course in midwifery.
"Katie is very strong. She's a very strong girl and we're very proud to be her parents. It's very sad for her. Katie has to live with this for the rest of her life."