A 23-year-old man has been sentenced to life in jail for the murder of Cameron Reilly, whose body was found in a field in Dunleer, Co Louth four years ago.
Aaron Connolly, of Willistown, Drumcar was found guilty by a jury last Thursday.
He had pleaded not guilty to the murder of the 18-year-old at Shamrock Hill, Dunleer on 26 May 2018.
In a victim impact statement, Mr Reilly's family said the trial had ended but their nightmare would continue.
His uncle Darren Flanagan read a victim impact statement on behalf of the family describing how Cameron was an only child and the first grandchild in his family.
He said the 18-year-old student was their "golden child" and the "apple of everyone's eye".
He described him as a happy and contented child, who was never a moment's trouble adding that he was a "gentle, quiet boy who was a joy to be around".
The court was told he loved music and concerts and always chose the front passenger seat in a car so he could control the radio and sing along.
His uncle described how on the morning of his death when they heard a body had been found, their initial thought was "God help the poor family", adding "little did we know that we were the family".
Mr Flanagan said their lives came crashing down after Cameron's death and nothing has been the same since.
He spoke of the family's distress knowing how afraid Cameron must have been knowing he was in the hands of a murderer and how he was left "like an animal in a field".
"They say the four saddest words in the English language are 'what might have been'. Just because this trial is over it does not mean the nightmare is over for us. We were served a life sentence when he was taken away from us.
"We never got to give him a last hug or be with him when he took his final breath. He was so much more than a name in the media. He was a son, a grandson, a nephew and a cousin and he deserves to be remembered for that. Our beautiful boy, forever 18."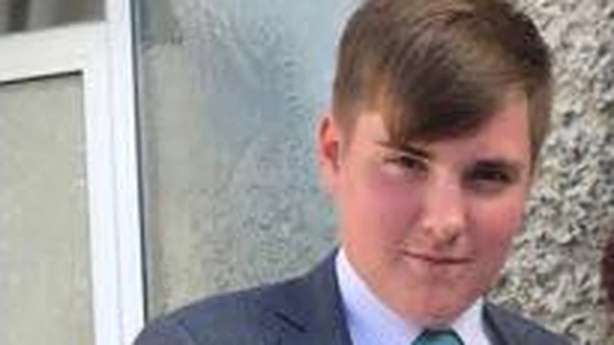 Mr Justice Tony Hunt said during the trial it came across very strongly that Mr Reilly was particularly well liked. He said the trial was particularly difficult for his family.
The judge said Connolly's defence was untenable and was rejected by the jury and he imposed the mandatory life sentence for murder.
Mr Reilly had been out with a group of friends in Dunleer on 25 May 2018. They were drinking in a field and left around midnight get food from a takeaway.
Mr Reilly returned to the field, where his body was found the following morning. The jury was told he had died violently. The cause of death was asphyxiation from pressure to his neck.
The prosecution said Connolly was among those in the group that night and that he had returned to the field with Mr Reilly.
Connolly at first told gardaí they had gone their separate ways at the end of the night and that he did not look back.
However, after the trial began, he admitted there had been sexual activity between them, but he maintained Mr Reilly was alive when he left him.
The admission was made on the day evidence would be put before the jury that Connolly's DNA was found on the body of Mr Reilly.
Prosecuting counsel Dean Kelly said Connolly had lied from the beginning of the investigation to the end. He said the constant fox-like evolution of the lies rebutted any suggestion he was lying to protect his private life or sexual preferences.
However, defence counsel Michael Bowman said strategic lies had been told by several young people who were there on the night.
He said that lies may be told for all sorts of reasons out of fear and panic and the fact that someone had lied was not enough to prove a charge of murder.