One of the main targets of a garda operation set up to target Drogheda's feuding criminal gangs has admitted his part in the murder of a teenager in Drogheda almost three years ago.
Paul Crosby, aged 26, from Rathmullen Park in Drogheda, today pleaded guilty to facilitating the murder of Keane Mulready-Woods, whose dismembered remains were found in Dublin and Louth.
He has been remanded in custody for sentencing in January.
Crosby was one of the main targets of Operation Stratus, the garda operation set up to target the ongoing Drogheda feud between two criminal gangs.
Four people have been murdered in the east and north of the country as part of the feud, including a 17-year-old boy.
Keane Mulready-Woods was on bail and subject to a curfew when he went missing in January 2020.
His mother reported his disappearance to gardaí on 13 January when he did not come home the night before.
The teenager was murdered in a house in Rathmullen Park in Drogheda.
His dismembered remains were subsequently found in a sports bag on a green area in Moatview in Coolock, in a burned out car in Clonliffe Road in Drumcondra and at a location in Rathmullen Park in Drogheda.
The cause of death has not been ascertained.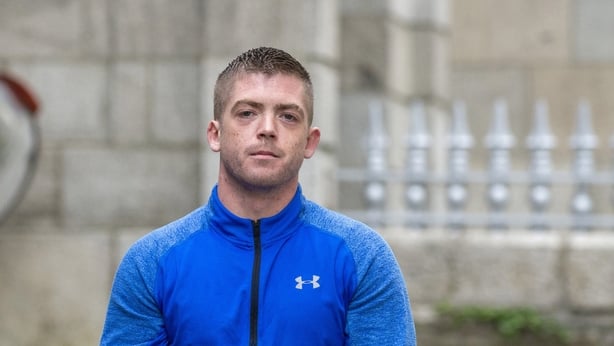 Paul Crosby and his co-accused, 47-year-old Gerard Cruise with addresses in Dublin 1 and Rathmullan Park, were charged with the teenager's murder.
Both appeared before the Special Criminal Court today where Paul Crosby pleaded guilty to the charge that between 11 and 13 January 2020, with knowledge of the existence of a criminal organisation, he facilitated the murder of Keane Mulready-Woods at 31 Rathmullan Park in Drogheda.
Detective Inspector Aidan McCabe gave evidence of handing Mr Crosby a copy of the charge and identified him in court today.
When asked was he Paul Crosby, he replied "I am" and when the charge was put to him he replied "guilty".
Mr Justice Tony Hunt remanded Paul Crosby in custody for sentencing on 23 January next year and Gerard Cruise in custody until 13 January.
After Crosby pleaded guilty, Mr Cruise's defence counsel Bernard Condon told the court that Mr Cruise would also be "doing likewise" next month.