A former Sinn Féin councillor who admitted helping a criminal gang to murder a rival gang member at the Regency Hotel in Dublin six years ago has been sentenced to four years in prison.
Jonathan Dowdall, 44, and his 65-year-old father Patrick, both with an address on the Navan Road in Dublin, admitted assisting a criminal gang to commit the murder of David Byrne on 5 February 2016.
Jonathan Dowdall has said he is willing to testify in the trial, which begins tomorrow, of three other men, including Gerard Hutch, in connection with the murder.
Mr Justice Tony Hunt said the court accepted that the effect of his decision was to put him and his family "in peril", that their lives had been "upended, more onerous and dangerous" but the court had to impose a custodial sentence.
Patrick Dowdall was sentenced to two years in prison.
The court allowed the execution of the sentence to be suspended for two weeks to allow the Dowdalls to consult with professional people.
They are to be presented to the Governor of Portlaoise Prison on this day two weeks to begin their prison sentences.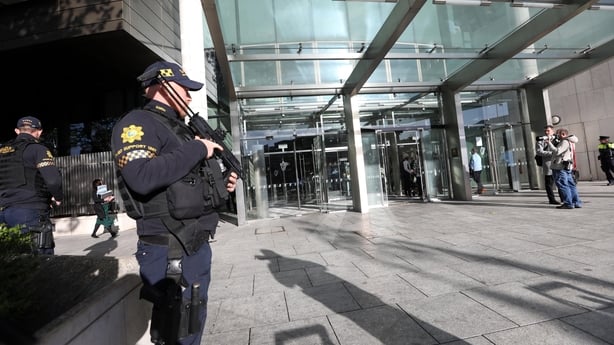 The details of the murder of David Byrne and the role played by Jonathan and Patrick Dowdall were outlined at the sentencing hearing at the Special Criminal Court two weeks ago.
Byrne, whose mother Sadie and father James were in court along with other family members, was shot dead during a boxing weigh-in at the Regency Hotel on 5 February 2016.
The murder escalated a feud between the Hutch and Kinahan organised crime groups, which has so far cost 18 lives.
Patrick Dowdall booked a room in his own name at the hotel the day before the murder and paid for it in cash at the hotel.
His son Jonathan drove him there and handed the key card over to a member of an organised crime group.
The room was used by Kevin Murray, the dissident republican who was part of the hit team the following day.
The following month, Jonathan Dowdall met another man and travelled to Northern Ireland. However, his vehicle was under surveillance and the conversations between the two men were recorded.
Gardaí recovered firearms two days later.
Jonathan Dowdall had also faced a charge of murder but last November he indicated he wanted to speak to gardaí and was willing to talk about the Regency Hotel.
Detective Sergeant Patrick O'Toole previously told the sentencing hearing that Dowdall was "sincere and genuine in what he told us and in his wish to co-operate".
Gardaí took a formal statement taken from him three weeks ago and his senior counsel Michael O Higgins said "the process is in train", he is now "available as a witness in the forthcoming trial" and has "indicated his willingness to give evidence".
The charge of murder against Jonathan Dowdall was dropped.
Mr Justice Tony Hunt said today that the court was satisfied that Jonathan Dowdall knew he was assisting a serious criminal organisation.
He received instructions to get a hotel room and he handed over the key which gave the gang member who used the room a legitimate reason to be there at the time.
The judge also said that Dowdall continued to associate with members of the criminal organisation after the murder.
He met one in north Co Dublin, he travelled to Northern Ireland, his conversations were recorded and there was a firearms seizure two days later related to the murder.
Even accepting that he did not intend or envisage murder, Jonathan Dowdall he said was complicit in that crime.
Mr Justice Hunt pointed out that the consequences of Dowdall's assistance were particularly grave and he had previously committed serious crimes of violence.
The court placed the headline sentence for the offence at eight years, but reduced it by 25% for his guilty plea and another 25% because of his "decision to make statement and give evidence against others involved in these crimes".
However, the court said it did not consider that this offer of future assistance does not justify imposing a wholly suspended sentence.
Mr Justice Hunt said the three judges accepted that "the immediate and lasting effect of his decision is to put him in peril", that his life and the lives of his family have been "upended" and now become "more onerous and dangerous" even after this case runs its course.
Jonathan Dowdall was jailed for four years.
Mr Justice Hunt said, however, that his father Patrick was not a member of the criminal gang, had cooperated and the court considered his offence was at the lower end with a headline sentence of four years.
He was also given a 25% reduction for pleading guilty and another 25% reduction because he will be "caught up in the aftermath of his son's decision" and the "service of the sentence will be more onerous in his case".
He was jailed for two years.
The court agreed to a request by the two men's defence counsel that the execution of the warrant be suspended to allow them to deal with "professional people".
Mr Justice Tony Hunt said he imagined gardaí would be keeping a close eye on the situation and said there was precedent for such a postponement on "humanitarian" grounds.