A man accused of shooting dead a detective garda in Co Roscommon just over two years ago said he shot him because of "all that was going on with the police in the world".
46-year-old Stephen Silver from Foxford in Co Mayo claimed he had been attacked by Detective Garda Colm Horkan and was also heard to mention "black lives matter" in the immediate aftermath of the shooting.
Detective Garda Horkan was shot 11 times with his garda-issued firearm, the court heard, and died at the scene at Castlerea on 17 June 2020 from catastrophic injuries.
In interviews with gardaí, Mr Silver claimed he did not know who Det Gda Horkan was as he was dressed in plain clothes.
He also claimed Det Gda Horkan had tried to attack him first and "must have shot himself".
Mr Silver said he then must have shot the garda without his glasses on. He said he was angry about it because a guard tried to kill him.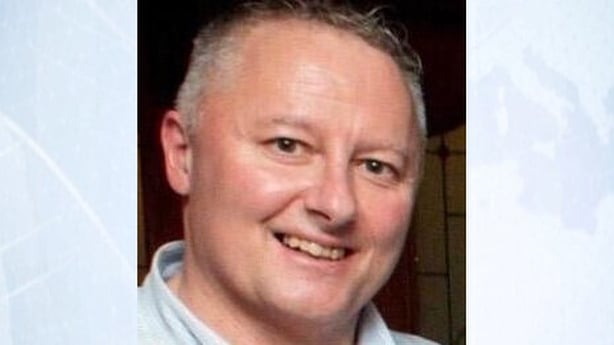 In his opening speech to the jury, prosecuting counsel Michael Delaney said Mr Silver had a history of mental illness going back 20 years.
On the day of the shooting, he had been shown video of a garda raid on a friend's house some weeks previously.
That night, he and his friend began driving around an estate on a motorbike and residents had called the gardaí.
Mr Silver has pleaded not guilty to murdering a garda acting in the course of his duty, but has admitted to manslaughter on the basis of diminished responsibility.
Mr Delaney told the jurors an issue they may decide to be relevant was whether Stephen Silver was ill-disposed to gardaí at the time and whether or not this was something that manifested itself in his actions during the day and during the course of the encounter with Det Gda Horkan.
Mr Delaney said the defence would claim Mr Silver was suffering from a relapse of his mental health difficulties to the extent that his responsibility for the killing was diminished. But he said the prosecution disagreed and would say Mr Silver had significant functional mental capacity at the time.
He told the jurors they would hear from two forensic psychiatrists and it would ultimately be an issue for them to decide.
The trial will resume on Monday morning. It could last up to seven weeks and may hear from more than 100 witnesses.